Shovel OEMs Make Major Design Improvements
AC drive technology, maintenance considerations and operator comfort take priority
By Steve Fiscor, Editor-in-Chief
---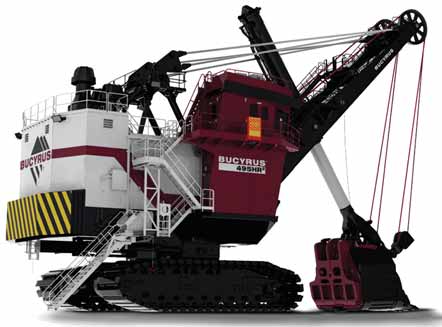 The new Bucyrus 495HR Super 2.

Truck-shovel mining is one of the most productive methods of moving dirt. As haul truck capacities grew to accommodate the traditional 3- and 4-pass loading scenarios with the larger shovels in the pit, mine operators had to contend with a new set of parameters that included AC technology in a traditionally DC world, wider hauls roads, new loading configurations and different maintenance strategies. Maximizing shovel productivity without being overtrucked— what had been a relatively simple mining exercise—was becoming much more complex.

Ask miners what they want and they will give several answers. A production manager will usually say more power for better cycle times. Some would argue they go hand-in-hand. Maintenance technicians see the world a little differently. Planned downtime appeals to them along with remote diagnostics. Shovel operators, the miners that spend eight hours or more running the machines, share those ideas and they also have their considerations as well.

The two electric shovel OEMs, Bucyrus International and P&H Mining Equipment, have been listening and they are ready to up the ante. Bucyrus recently launched a second model of one of its more popular shovels. P&H recently completed testing on a new shovel in the oil sands. Both are incorporating AC technology along with many new features that technology now affords.

The New Bucyrus Shovel
Bucyrus has produced what it believes to be the world's most advanced electric rope shovel, the 495HR Super 2 (495HR2). Based on the efficiency of AC IGBT electrics and enhanced propel power, along with other innovations, such as the HydraCrowd and the LatchFree dipper system, the South Milwaukee-based shovel OEM believes the electric shovel's safety, reliability, and productivity will bypass that of its predecessors. In addition to a modified operator's station, the Super 2 sports a new bold look.

AC electrics have become a staple of the company's electric shovel range. Incorporating the latest Bucyrus AC-IGBT drive, miners can expect the same reliability they have come to expect from the system. The system provides immediate fault identification, condition monitoring and troubleshooting tools. These integrated systems provide the platform for AccessDirect, Bucyrus' remote diagnostics package that allows shovel monitoring from any remote location, which decreases the time to assess, diagnose, and repair a shovel.

An enhanced propel system garners a 12% increase in maximum propel torque, explained Anthony Donovan, product marketing manager, Bucyrus. "This system was designed to combat propel challenges encountered in the mine environment, most notably in the soft underfoot conditions," Donovan said. "It provides the necessary power boost to maneuver the machine in tough digging situations, avoiding downtime associated with ground-lodged shovels."

The increase in maximum propel torque was achieved through the design of a new, larger planetary gear case. When coupled with a 700-hp (522-kW) AC variable speed propel motor, it supplies increased power to move the machine. "The propel motor is mounted to an angled motor base to increase clearance under the motor, further improving the reliability of the components by moving them away from the pit floor," Donovan said.

While the new planetary gear case is highlighted by its ability to provide more power to move and re-position the shovel, it may also afford miners greater gear case life. All gear case components were analyzed using finite element analysis to confirm longevity, Donovan explained. "The new planetary gear case is designed to provide 50% more life, exceeding the life offered by its predecessor," Donovan said. The upgraded propel power system can also be retrofitted to existing Bucyrus 495HR/HF electric shovels.

The LatchFree dipper replaces the latch assembly with a steel link, removing the critical latch components from the harsh conditions of the lower dipper door. It provides more predictable maintenance schedules.

The HydraCrowd system, which was announced at MINExpo 2008, provides instantaneous, highly responsive control with smooth vibration-free operation, according to Donovan. "It negates the heavy inertial loading of rack and pinion style crowd systems by locating the hydraulic power pack on the machinery house deck," Donovan said. "Major maintenance for the cylinder is scheduled to occur every 24 months, eliminating the need to regularly change crowd and retract ropes, and eliminating annual maintenance for rack and pinion style crowd machinery."

Highlighting the shovel's design improvements is a newly designed, patents-pending operator's station and cab. A two-year, $1 million plus research and development project, including industrial research, "voice of customer" field surveys, partnership with a leading ergonomics expert, and collaborative workshops with customers from around the globe, provided the foundation from which the cab design emerged. "Bucyrus design engineers, armed with insight into the aspects most desired by its customers, setout to develop a cab that delivers more comfort, added safety, greater reliability and enhanced productivity," said Donovan. "What they created was a work environment sure to be the envy of corporate executives and mining machinery operators alike."

Knowing that a comfortable operator is productive, an ergonomic, fully adjustable and isolated operator's seat serves as the focal-point of the new cab design. The leather-bound operator's seat includes infinitely variable armrests and a fully pneumatic suspension system with an integrated air compressor. "The armrests can float with the operator's arms during operation, facilitating unimpeded armrest movement toward the body, away from the body, and into resting positions on the operator's legs," Donovan said. "This unconstrained degree of armrest adjustment tailors to operator preference, thereby reducing strain, fatigue and general discomfort experienced throughout the work shift."

Dual display screens are strategically positioned within arm's reach to prevent obstruction of the operator's line of sight during machine operation. New Hall Effect joysticks, featuring custom designed ergonomic handles and "finger control" spring tension, allow for effortless operation and improved control response, according to Donovan. "The new seat and controls combination has been field-tested to ensure functionality and ruggedness," Donovan said.

Enhanced software offers intuitive icons and logical navigation for reduced cognitive fatigue. Likewise, the programming is visually aesthetic and provides appropriate illumination for both day and night operation. All of the colors and surfaces in the cab have been evaluated for light reflectance, and have been carefully chosen to reduce glare in the cab, Donovan explained. High-quality window blinds, offering both electric and manual operation, provide optimum shading from sunlight and external illumination.

A redesigned HVAC systems uses automatic climate control and a strategically positioned temperature probe adjusts to maintain a comfortable temperature in the cab. "The design provides correct and optimal air movement throughout the cab, and was tested to ensure desired climate control," Donovan said.

Meticulous efforts were taken to minimize cab vibration and noise, further enhancing the overall comfort of the cabin, Donovan explained. "Structurally, the cab is bolstered by an extended machine house underneath for improved stability," Donovan said. "In addition, the cab is mounted on shock-absorbing rubber isolators, reducing the vibration imposed on the cab, and most importantly the shovel operator, during machine operation. Rattle-free, NASCAR cabinet and closet door fasteners ensure a quiet work environment, and drawers with a patented dual latching system won't open unexpectedly. All cab walls are adequately insulated for internal and external sound dampening."

The operator's station was repositioned to offer unobstructed vertical line-of-sight extending from the crawler tracks to the point sheave. Right-hand and blind-side visibility was improved from the seat repositioning. Overhead video monitors with closed circuit cameras have been installed on the machine allowing for greater situational awareness during digging, haul truck spotting and propelling.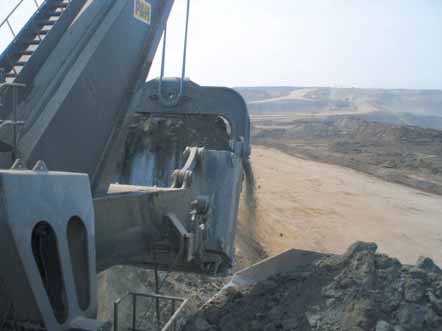 Testing the P&H 4100Boss AC, Suncor has seen a 2.5% improvement in availability.

P&H Tests New AC Shovel
During 2005, P&H Mining Equipment assembled a cross-functional team to investigate building a shovel with AC-powered drives. This was a major departure for a company that only a year earlier had launched the DC-powered Centurion system for its shovels. P&H had been watching developments with AC-powered drives for a long time. The Milwaukee-based shovel maker gave it some serious consideration in the early 1990s, but did not feel the technology had matured to a point where it was really ready for a mining shovel application.

Fast forward 15 years and P&H is now convinced that AC technology has advanced to the point where it would be as reliable as its DC machines, potentially even more reliable. With electric-drive haul trucks and uses in other areas, AC technology has become more mainstream for open-pit mining operations and the mines themselves were pressing P&H to take another look at it.

P&H knew it needed two ingredients to make the launch of its first AC-powered shovel successful: the right technology partner in terms of drives and a tolerant mine to serve as a proving ground. They selected ABB as its drives supplier, and Suncor, a Canadian oil sands miner, agreed to purchase the first machine.

"We had made a conscious decision earlier in the decade to standardize on ABB DC drives, which led to the development of the Centurion platform," said Curt Hanson, director-product management, P&H. "When we started to look at AC power for the shovels, ABB's drive technology was well-advanced compared to other options at the time and it was a complementary fit for our Centurion system."

The company also briefly considered ABB as a potential motor supplier, but elected to stick with P&H motors. Custom designed motors are a core competency for P&H, Hanson explained, "and we were able to design a motor that fit the same footprint as our DC motors." The new system would be built with P&H AC motors and ABB drives. The engineers at P&H went into a two-year development cycle.

Meanwhile, P&H started the selection process for a start-up partner. "We have an internal process that focuses on flawless start-up on new products," Hanson said. "A big component of the success of that selection process is choosing the right partner. The ideal partner is a mine that's technically savvy, yet has a high tolerance for normal start-up debugging. They also have to be willing to share a little risk." Suncor agreed to be that partner. Oil sands mining conditions are tough, and the company already operated six P&H shovels and they had experience with AC technology.

During the start-up phase, P&H built some slack into the back-end of the process to give its engineers time to shake out the bugs. The first AC shovel began operating at Suncor in early 2007. "To roll out a product successfully, we would have to allow time for engineers to conduct final testing in the bank for a period of time before we turned it over to the mine," Hanson said. "This was a deliberate plan."

Prior to the AC 4100BOSS shovel's arrival in the oil sands, P&H performed extensive component testing on the motors and drives in Milwaukee, looking at both load and no-load conditions. They also performed dynamic control testing with the Centurion system and pre-wired it prior to shipment for fit-up testing. "All of the alpha test 'gotchas' were worked out and now we just wanted to make sure it worked in the field from a beta standpoint," Hanson said. The in-house, pre-testing added to the success of the start up.

In January 2007, the first 4100BOSS AC began operating and P&H officially turned it over to Suncor in April. Since that time, Suncor has placed into operations four more AC-powered shovels. The company now operates a fleet of 11 P&H shovels, five of which are AC-powered.

P&H had a contractual agreement with Suncor that, if the AC machines were unacceptable, it would retrofit the AC machines with the DC packages. "We have conducted an investigation comparing the AC machines with DC machines at Suncor," said Steve Droste, shovel product manager, P&H. "That report was quite favorable. Essentially we are seeing higher levels of availability and significant productivity gains."

Suncor confirmed the availability is 2.5% higher than the DC shovels. "The AC shovel is faster and a little stronger than the DC," said Pedro Fimbres, reliability engineer, Suncor. "The operators like it. They see a difference between AC and DC, especially when switching from hoist to propel.

"Based on a report provided by P&H, we are seeing a 3% cycle time improvement with the AC shovel," Fimbres said. "During the last year, the AC machine has had fewer electrical problems than the DC machine. Although we still have some electrical issues we are working on.

"The shovel is performing well," Fimbres said. "We are working with P&H and ABB to address the bugs that occurred during startup and the first year of operation. Overall, we have a list of the problems that have already been solved in a timely manner.

"From an electrical point of view, gains have been made by not having brushes on the AC motors," Fimbres said. "We are maintaining it with the same frequency as the DC machines. On the mechanical side, maintenance considerations are the same."

Owen Tremblett, MinePro account manager for Suncor, thinks the AC machine is the way of the future. "The machine operates faster and there is less planned maintenance," Tremblett said. "With the AC motors, there is no need for intrusive maintenance to check the brushes. On an average PM, the mine is easily eliminating four man-hours per 12-hr shift. They could probably increase the maintenance interval from 750 hours to 1,000 hours."

The AC shovel powers through the bank much faster. Using AC motors, P&H was able to increase the peak horsepower and reach higher speeds than DC machines, explained Mark Emerson, group leaderdrives and controls engineering, P&H. "The AC machines have lower inertia requirements than the DC shovels, which means improved system performance," Emerson said. "The inertia required to slow the motors has decreased. With the dynamic nature of a shovel, there are some productivity gains in that area." With the increased peak horsepower and the improved efficiency of the shovel system, Emerson explained, the shovel spends less time in the bank.

"Even though the shovel is achieving faster cycle times, there has been no appreciable effect on reliability or the structure or the machine," said Brent Taylor, factory support representative, P&H. "Availability has been consistently high, which is something we were watching closely," Hanson said. "We did a good job keeping small problems small during the start up phase and keeping this shovel productive."

"On every metric that we have examined, everything has been more favorable with AC machines, in terms of availability, productivity, tons per kilowatt consumed, etc.," Droste said. "Every dimension we have measured met or exceeded expectations."

This year, P&H plans to roll this AC technology out on its 4100XPC shovels. The first 4100XPC AC will go to the Fording River mine, a major Canadian coking coal operation, located near Elkford, B.C.

To make this transition as successful as the oil sands debut, P&H will have to enhance its service structure globally. The people that were involved in the Suncor project, Hanson believes, will be the seeds for developing the expertise going forward.
---
As featured in Womp 2010 Vol 07 - www.womp-int.com