Truck Wheels: Mine Productivity Rides on the Rim
Unscheduled wheel repairs or tire service removes a truck from the fleet as quickly as a blown engine or transmission. With an eye toward reducing the time needed for wheel- or tire-related service, both haul-truck OEMs and aftermarket wheel suppliers are offering a wider selection of wheel and rim types
By Russell A. Carter, Managing Editor
---


Truck wheels generally don't attract the high level of industry interest and opinions typically aimed at engine, drivetrain or tire trends and technology, but they nevertheless represent a vital component in haulage operations. If a truck wheel—weighing anywhere from 5,500 to more than 6,500 lb in the largest sizes—breaks or runs loose on its hub, that truck goes out of service, resulting in the same production shortfall as if its engine, transmission or hydraulic system had failed, possibly complicated by expensive tire or mechanical damage.

Responding to mine operators' appeals for reduced non-payload weight and quicker maintenance features on their haul trucks, original equipment manufacturers are devoting more attention to wheel types and options. Caterpillar, for example, plans to expand wheel selection on its smaller mine-truck line to include a standard, noupcharge wheel as well as a standard wheel with optional quick-change rim. Its larger mechanical-drive mining trucks, such as the 793D/F and 797F series, will offer even more options in wheel diameter; standard, quick-change and wedge-style rim types, and wheel widths, depending on the model and intended use.

This somewhat low-profile market sector has drawn new entrants in recent years, joining established suppliers such as Rimex, Topy Industries, OTR Wheel Engineering and others. Among the newcomers to the mine-truck wheel market are Titan Wheel Corp., part of Titan International, which also produces off-theroad tires through its Titan Tire Corp. division; and GKN Wheels, part of GKN plc, a large U.K.-based supplier of automotive, industrial and aerospace components and technology. Titan Wheel entered the mining market three years ago and GKN Wheels in 2009.

Exploded view of Titan Wheel Corp.'s Accelerated Change Technology (ACT) wheel for large mining trucks.

As a sister company to an OTR tire builder, Titan Wheel claims it is the only company with the ability to design, test and produce both wheels and tires to deliver an integrated tire/wheel package to its customers. Overall, it produces thousands of sizes and types of wheels, and provides tires, wheels and tire and wheel assemblies to several mining OEMs. The company operates two ISO 9001:2008 certified production facilities, one in Quincy, Illinois, USA, that builds agricultural, construction and industrial-class wheels; and a 275,000-ft2 plant and warehouse in Saltville, Virginia, USA, that produces large earthmover and haul truck wheels along with larger constructionequipment wheels.

Titan Wheel recently introduced a design called the Accelerated Change Technology (ACT) wheel, a position-sensitive unit that allows a worker to change rear tires on a mine haul truck in much less time than required by conventional wheel arrangements. Titan Europe plc, a former subsidiary of Titan International that is now a separate entity, also markets the concept, called the Outside Vertical Mount (OVM) wheel, which was originally developed in Australia.

The ACT wheel/rim assembly consists of two bead bands and side rings, a twopiece lock ring and one standard lock ring (see diagram). The lock rings are designed to release the tire assembly from the wheel, allowing easy removal of the tire.

"The ACT wheel is intended for use on the outside rear wheel position on mining haul trucks," said Jeremy Martin, customer service manager for Titan Wheel. "Once installed, there's no need to remove nuts or clamps to rotate the tires off and on the truck." When an inside dual tire must be changed, only the outside tire is removed; the inside tire can then be slipped over the outer ACT wheel.

ACT wheels employ a double-lock system that stops rotation of the side flange, preventing expulsion of the flange and helping control tire slippage. The back and bead incorporate a continuous pry-bar slot which aids service personnel in demounting the tire from the wheel. A "Sur-Loc" rim component inside the bead band prevents tire inflation if the lock ring is misassembled.

Martin noted the ACT wheel also improves safety while likely reducing service technician fatigue. Workers no longer need to handle the outside wheel, which can weigh more than 3 tons. In addition, the ACT wheel reduces the use of heavy impact wrenches needed to unfasten 50 to 60 lug nuts when removing a wheel and tire assembly. According to the company, ACT wheels are compatible with every size and brand of mining tire on the market, and are available for any haul truck model.

The economic benefits of quicker tire service can be significant, according to figures provided by Titan Wheel. For example, at an open-pit gold mine that tested the ACT wheel, workers were able to perform a dual-tire changeout in five hours with conventional 29 x 57 wheel assemblies and 40.00 R57 tires mounted on a Caterpillar 793 hauler. Using ACT wheels in the outside rear position cut the overall time for this operation to 2.7 hours. Extrapolating these time savings to estimate potential production benefits from decreased downtime results in a six-figure revenue increase per haul truck, as shown in the accompanying box.

Titan also manufactures the Super-duty Titan Machined Taper (STMT) Series wheels. The company claims use of Finite Element Analysis (FEA) in the design process allows it to produce a 63-in.-diameter wheel roughly 1,000 lb lighter—in both the STMT and ACT Series models— than those of its competitors.

GKN Moves Up
Len Hensel, GKN Wheels' North American technical director for off-highway wheels, explained GKN employed state-of-the-art engineering technologies and computersimulated modeling techniques to develop a new range of mining wheels.

GKN has long been involved in providing OEMs with products in the small- to medium-diameter wheel market, said Hensel, and viewed a recent expansion into the larger sizes—45-in.-diameter and up— as a natural move. The initial objective, he explained, was to establish market presence as a supplier of replacement wheels in the larger sizes, with longer-term focus on gaining business as an OEM supplier for the giant wheel sizes used in mine haulage equipment.

"The largest, open cast mining trucks carry loads of up to 400 tons and the wheels for this machinery must fulfill the toughest performance criteria, demonstrating both strength and reliability," Hensel said. "GKN's mining wheels have been operating in various mine sites since early 2009 and are exceeding our performance expectations.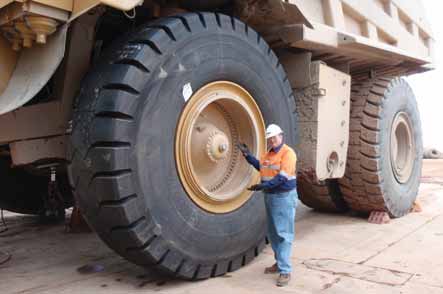 Len Hensel, technical director, GKN Wheels North America, points out the features of his company's new
wheels for large mining trucks..

"The mining wheels marketplace has remained largely unchanged for many years," Hensel said. "At the same time as introducing more choice and helping to drive competition, we are giving manufacturers of mining machinery the chance to improve the reliability of their mining trucks and pass on efficiency benefits to the mine operator."

He predicted the company will develop designs in the very near future that make more effective use of materials and allow faster tire and rim service. Having had ongoing relationships with major tire producers for the past 15-20 years GKN Wheels, said Hensel, will continue to work closely with them to optimize its largewheel products for maximum value to the end user.

GKN Wheels designed its line of large mining wheels at its North American Technical Center. The wheels are being manufactured at the company's plant in Liuzhou, China.

Rimex Handles Radial Tire Demands
British Columbia, Canada-based Rimex Supply Ltd. has been involved in the largewheel market for several decades and is known for developing the Machined Extreme Service (MES) Series and the Taper Secure Radial (TSR) Series of wheels and rims.

The MES series is built to handle what Rimex describes as a 75% increase in stress transferred to the wheel/rim base by radial tires compared with conventional bias-ply tires. According to the company, the "true" wheel roundness achieved by its machining process creates a stronger wheel/rim with a uniform tire bead seal as well as better flange, bead seat band and lock ring fitment. These features are claimed to produce higher safety factors as well as longer life for both rims and tires.

The TSR Series is designed to provide even more advanced rim life by largely eliminating flange movement through a superior ability to stabilize the bead and sidewall of the tire. Similar to the MES Series, the machined surface of the TSR Series eliminates air leakage for consistent tire performance.

Rimex says its Machined Standard Service (MSS) series is designed to meet the needs of mining applications at a more economical price than the TSR or MES wheel lines.
---
As featured in Womp 2010 Vol 07 - www.womp-int.com