Tire Makers Get a Chance to Restock and Retrain
Safe practices and solid maintenance programs remain vital for mine operators
By Steve Fiscor, Editor-in-Chief
---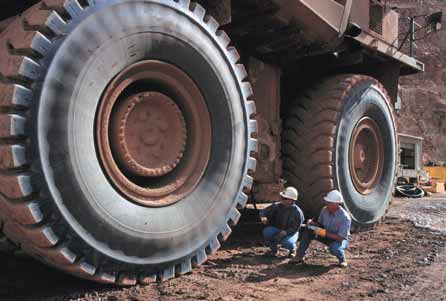 Programs for extending mining tire life do not have to be complicated. (Photo courtesy of Michelin Earthmover).

Not too long ago mines were desperately seeking tires for haul trucks. Commodity prices were high and mines wanted to ramp up production. Truck OEMs could deliver trucks, but could not guarantee they would have tires. The situation became so desperate, mines began to slow truck speeds to extend tire life. Those were the good old super cycle days of 2006-2007.

Reality set in with the global economic crisis. With the exception of gold miners, almost all of the other miners saw prices and demand slow. The story on the aggregate side of the business was worse. Large quarries do compete with some mining operations for tires. It didn't take long for the mining market to rebound this time and tire makers had a chance to catch their breath.

Ironically, the same techniques mines used to extend tire life during the shortage period also helped them hold costs to minimum while prices were soft. Maybe it's common sense, a sensitivity toward the bottom line at all times, or a combination of the two. Good tire maintenance programs are extremely important.

Similarly, the mining industry's attention to operating safely never waivers during markets cycles. The mines are always striving to achieve the best. During high times, when mine operators maximize production and hire help, they have to be vigilante. And, during slow times they can ill afford to rest on their laurels.

Three years ago everyone on the surface mining side of the business was talking about tire supplies and tire suppliers were explaining shortages in raw materials brought on mostly by a run-up in oil prices. The global financial crisis definitely changed the dynamic in the tire market, explained Roger Best, senior field engineer, Bridgestone Americas, Off Road Tire (BAOR). "We had contracts with many mines and that business slowed after the downturn, but they still continued to buy and maintain inventories. The spot markets dried up. That made it easier for us to sell to other mining customers with whom we did not have contracts."

Along with the economic downturn, mines also became even more cost conscious with more emphasis on tire maintenance programs. "If tires are neglected for a day over a two-year period, that's not a problem," Best said. "If tires are neglected for six months during a two-year period, then performance will drop. It's like hearing loss, ignoring tire maintenance has a cumulative effect."

Tire sales are starting to improve again, Best explained. "Even though analysts are making all kinds of predictions, mining tire sales are improving," Best said. "Small and medium size mining tires are definitely improving. The larger tires, those under contract, are either maintaining or improving in sales. At our BAOR facility in Bloomington, Ill., we recalled more than 100 workers during the second quarter that were laid off. That's a positive note." That BAOR facility supplies tires for the Komatsu and Caterpillar factories in Peoria and Decatur, among others.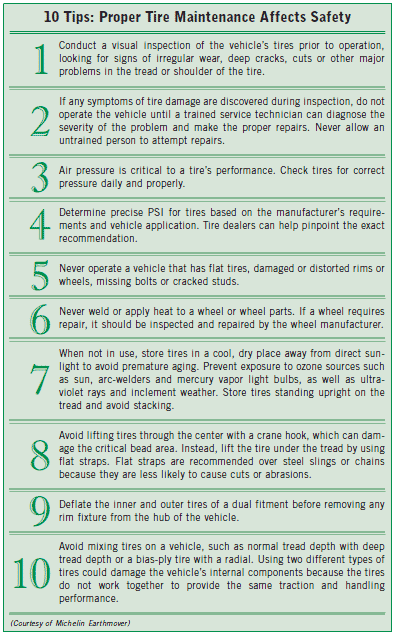 As far as resources, tire makers are well-positioned now. "Prices for raw materials were set for the first half of the year, but they will move higher during the second half of the year," Best said. "Oil prices appear to be moving higher again. Rubber prices were high in 2008. They drooped and are now moving higher again too. Raw materials represent about 40% of the tire's cost."

As the recovery takes hold for the mining business, demand for tires may reach or exceed 2007 levels. Already, truck OEMs have announced expansion plans. If the recovery arrives in earnest during 2012 and commodities are a leading indicator, then the time to start planning will be upon the industry soon if not now.

Tire Maintenance and Training
With prices for the largest mining tires exceeding $65,000, mines have always paid very close attention to tire programs. Programs for extending tire life do not have to be complicated. "If mines can maintain haul roads, reduce spillage and follow the manufacturers' guidelines, those three steps will get them to within 80% of where they need to be," Best said. "Haul roads should be properly graded and wide enough [three truck widths]." Drainage is also important.

When grading the dump area, Best explained, the grader operator should approach the job strategically. "The dump area is so large that a lot of time is wasted grading unused areas," Best said. "Sometimes as little as 20% of the dump area is actually being used, especially the center area. The outer ring where the trucks travel is probably most important.

"Air pressure, maintenance programs and driver training also play a tremendous role in extending tire life," Best said.

The newer tires are usually placed on the front of haul trucks. "The front tires bear the heaviest load, but they do not necessarily wear the fastest because they do not see the torque from the engine," Best said. "With the additional stress from turning, they wear at the heel and toe. However, the rear tires wear the fastest due to the torque."

Steering is important; losing a front tire could be critical. On the rear, the truck has another tire to allow it to come to rest safely. In general, BAOR recommends tires should run for one-third of the life on the front position and the remaining two-thirds on the rear.

Technology has improved tire maintenance programs. BAOR's TreadStat is one of the most most advanced tire and rim management systems. In addition to inventory management, it offers forecasting, makes bias vs. radial comparisons, tracks test tires, etc. "TreadStat tracks tires at more than 3,000 locations worldwide, mostly mining and construction tires," Best said. "We are developing new ways to input information— PDAs, notebooks with touch pens, etc.—to eliminate data entry error." TreadStat can generate almost any custom report for a mine.

BAOR constantly strives to improve tire performance. The company offers driver/operator training to better understand tires and how to maintain them. The company's Integrated Tire Solutions includes programs for job condition reports, tire matching, loader tire management and more. "Integrated Tire Solution's training program is Bridgestone's version of continuing education," Best said. "We explain what to look for, what to do and when to raise a red flag," Safety audits are also important to eliminate any issues that may arise.

Tire engineers are working to improve operating efficiency, reduce costs and deliver the right tires. "Our engineers are looking at and trying to improve casing and tread life," Best said. Some of the advanced analysis tools include weight studies, heat studies, GPS and accelerometer real-time data and tire tags provide data from within the tire while they're on the road. The training is paying dividends. "We track safety performance among our clients and we are seeing a noticeable decrease in incidents in the mining market," Best said.

Tire Safety and Education
Michelin Earthmover agrees with the previously mentioned market assessment. "The mining industry is moving in a direction that will require the use of more tire products than ever before, and tires will continue to present potential safety consequences if not used and maintained properly," said Terry Beach, training director, Michelin Earthmover.

Understanding and managing tire safety at a mine site is extremely important, Beach explained. "Tire-related accidents are a controllable hazard in the industry and can be prevented," Beach said. "A stronger tire safety plan can help not only reduce incidents but also improve productivity. Tire safety and training programs give personnel at all levels the knowledge and tools needed to reduce costly repairs and downtime, increase the life of a mine's tires and create a safer work environment."
Personnel that work with tires need to be educated as to how to interact with the machinery and the tires
in a safe manner. (Photo courtesy of Michelin Earthmover).

Michelin's Earthmover Tire Safety Program was designed and introduced in 2004 to raise awareness and education levels about tire safety. It was updated in 2006 to better meet the need for comprehensive, quality information that leads to processes and procedures being performed accurately and safely, Beach explained. "The educational plan is taught in 12 one-hour sessions," Beach said. "Each of the sessions explains a particular aspect or best practice related to tire maintenance and safety."

Beach cites four main preventable causes of tire-related accidents at mine sites:
• The operator did not know what to do when something started to go wrong.
• The operator did not have time to properly complete a job and overtasked the tires or equipment.
• The operator was using the wrong tool or equipment to complete a job.
• The operator failed to comply with the standard, accepted safety practices.

"Because the majority of tire-related accidents fall into the categories above, it is essential that managers, maintenance personnel, equipment operators and support staff are educated as to how to interact with the machinery and tires in a safe manner that will help avoid these dangerous situations," Beach said.

The 12 modules include Safety and Tire Management; Personal Tire Safety; Tire Selection and Limits; Delivery, Storage and Handling of Earthmover Tires; Safety Around Rim and Wheel Components; Mounting, Inflation and Demounting; Operational Use of Tires; Tire Technology; Tire Inspection and Damages Assessment; Tire Shop Work Environment; Tire Repair; and Nitrogen and Tire Fires. The final session shows participants how to prevent and deal with tire fires as well as the basics of nitrogen inflation.

With the increased emphasis on making mine sites safer places to work, mine managers are more often using education programs like the Earthmover Tire Safety Program. They educate themselves and their crews on the factors that cause accidents and the best practices that can prevent them, including training and technical assistance on every aspect of the machines and operations.

Tire safety management becomes equally important along with tire safety training because tires continue to grow in size to support even larger machines. In developing a tire safety management program, Beach suggests several important questions that should be answered, including:
• What safety areas of our operation need improvement?
• What safety behaviors need to be changed?
• Will training change those behaviors or are the issues more strategic?
• What steps should be taken in order to create a sustainable tire safety program?

"As mine managers work to develop such a management program, they should include their service provider and/or tire manufacturer and safety personnel to help answer these vital questions," Beach said.

Service providers and tire manufacturers can also be helpful in developing programs for tire management. Dealers should be able to help or direct a mine site manager to information and programs that provide education on daily safety walkthroughs, supervisor training, site severity reviews, proper pressure maintenance, tire training, dispatch training, best practices, tire selection and monitoring operators.

Once mine site managers have considered all of the factors that result in safe tire operation and use, Beach explained, they can develop a clear understanding of how best to communicate a tire safety program to their mine site. Safe tire operations require management direction and accountability. "Supervisors need to monitor their teams, and they need to constantly re-emphasize the importance of safety," Beach said. "Managers need to make time to train and show their personnel how to use their tools and equipment safely."

By implementing a tire safety program at the mine site and using an education program, the entire mining team's awareness and education will increase. As a result, goals of lower operating costs, improved productivity and safer operations can all be achieved.
---
As featured in Womp 2010 Vol 07 - www.womp-int.com