Rio Tinto Expanding Cape Lambert Port
---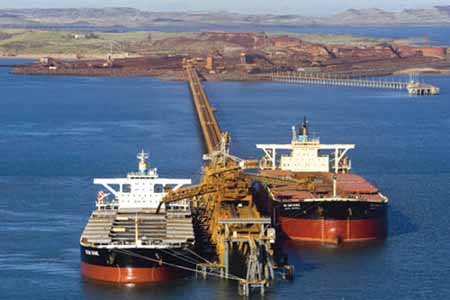 A $1-billion investment program was recently announced by Rio Tinto to expand its Cape Lambert, Australia,
port capacity to handle the predicted 330 million mt/y of iron ore that will be produced at its Western Australia
operations by 2016. (Photo courtesy of Rio Tinto)

Rio Tinto is investing nearly $1 billion toexpand its Cape Lambert iron ore exportport in Western Australia from its currentannual capacity of 80 million mt/y to 180million mt/y by 2016. On July 14, 2010,the company announced $200 million infunding to allow dredging contracts to beissued as part of early works on the portexpansion. Subsequently, on August 3,2010, the company said it will invest afurther $790 million to construct a new1.8-km jetty and four-berth wharf to runparallel to the port's existing jetty andfour-berth wharf. The latter investmentincludes $375 million for marine worksrelated to the construction of the newwharf and $415 million for the procurementof long-lead items such as pile andmarine structure and on-shore earthworksand machines.

The early construction works at CapeLambert are dependent upon a number ofgovernment and other approvals, includingthe approval of Rio Tinto's Robe Riverjoint-venture partners. A final investmentdecision is expected to be made by theend of 2010.

Rio Tinto's investments in export portfacilities in Western Australia are beingmade in support of an overall expansion ofiron ore production capacity at its Pilbaraoperations to 330 million mt/y. The companycurrently has nameplate productioncapacity of 220 million mt/y in the Pilbaraand expects production during 2010 to beclose to that total.

The timeline for Rio Tinto's planned portcapacity expansions in Western Australiaincludes the following interim targets:
• 225 million mt/y by the first quarter of2011 based on port systems efficienciescurrently being implemented at Dampierport;
• 230 million mt/y by the second quarterof 2012 based on incremental gains atDampier port, currently in feasibilitystudy;
• 280 million mt/y by the first half of2014 based on the addition of an initial50-million-mt/y increment to CapeLambert capacity, currently in feasibilitystudy; and
• 330 million mt/y by the first half of2016 based on the addition of a second50-million-mt/y increment at CapeLambert, for which the prefeasibilitystudy has been completed.
---
As featured in Womp 2010 Vol 07 - www.womp-int.com