Kennecott Utah Copper Looks at Extending Bingham Canyon Pit
---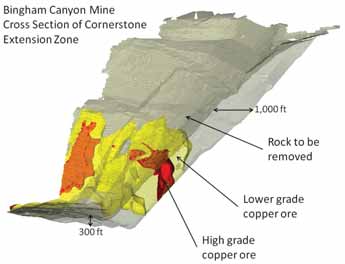 HPit diagrams illustrate the location and scope of Rio Tinto subsidiary Kennecott Copper
Utah's Cornerstone project, a pit pushback to access an additional 700 million tons
of ore that would extend the life of the Bingham Canyon pit by several decades.

Rio Tinto subsidiary Kennecott Utah Copper is evaluating the potential for extending the life of its Bingham Canyon mine in Utah to 2028 and studying additional extensions that may allow continued mining to 2030 or 2040. Called the Cornerstone project, the extension to 2028 would allow Kennecott to maintain current production levels. The company expects the evaluation process to take two years. Approval by the Rio Tinto board of directors will be required before the project gets under way.

The Cornerstone project entails pushing back the south wall of the Bingham Canyon mine about 1,000 ft and deepening the mine about 300 feet to reach 700 million tons of ore resource. This will require increasing the size of the pit's haul fleet, adding an in-pit crusher, and adding another grinding line and supporting equipment at the Copperton concentrator. Kennecott will also need to generate or procure another 100 MW of electricity to power these improvements. The existing refinery and smelter will not require expansion.

According to Kennecott Utah Copper, of the 70 primary environmental permits that Kennecott operates under, roughly 25 will require an update to accommodate the Cornerstone project.
---
As featured in Womp 2010 Vol 07 - www.womp-int.com