Kinross Agrees to Acquire Red Back
---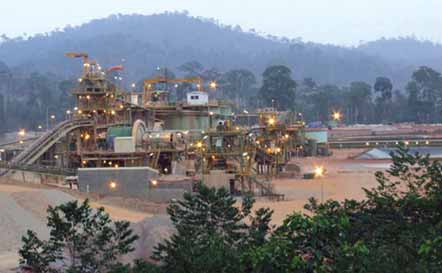 Kinross Gold and Red Back Mining have tentatively agreed on a friendly acquisition of Red Back's assets, which
include the Chirano gold mine in Ghana (above) and the Tasiast mine in Mauritania (below). The companies believe
the transaction will allow gold production for the combined company to reach approximately 3.9 million oz in 2015.
(Photos courtesy of Red Back Mining).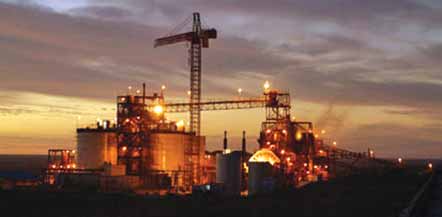 Kinross Gold and Red Back Mining announced in early August their boards of directors had unanimously approved a friendly merger, whereby Kinross would acquire all of the outstanding common shares of Red Back it does not already own in exchange for Kinross shares and warrants valued at about $7.1 billion. Kinross already held a 9.3% interest in Red Back.

Shareholder meetings to vote on the transaction were scheduled by both companies for September 15, 2010. Assuming completion of the transaction, current Kinross shareholders will hold approximately 63% of the combined company, while current Red Back shareholders will hold approximately 37%. Lukas Lundin, chairman of the Red Back board of directors, and Richard Clark, CEO of Red Back, are expected to join the Kinross board following closing of the transaction.

Red Back owns and operates the Chirano gold mine in Ghana and the Tasiast gold mine in Mauritania. Based on forecast production of 2.2 million attributable gold equivalent oz for Kinross in 2010 and 445,000 to 465,000 oz of gold for Red Back in 2010, pro forma 2010 production for the combined company is expected to be in the range of 2.6 million to 2.7 million gold equivalent oz. Current estimates call for production by the combined company to increase to 3.9 million oz in 2015; however, Kinross believes there is significant upside potential for Red Back's assets beyond this estimate.

The Chirano mine is located in the Bibiani gold belt in southwest Ghana. Operations are based on a series of open-pit deposits and the high-grade Akwaaba underground mine. Gold mineralization continues at depth below the current openpit mine designs at many of the deposits. In 2009, the mine produced 183,425 oz of gold at cash costs of $443/oz. Production for 2010 is forecast at 240,000 to 260,000 oz at costs of $460 to $490/oz.

The open-pit Tasiast mine in northwest Mauritania produced 158,660 oz of gold in 2009 and will produce about 205,000 oz in 2010. The existing orebody is open at depth and along strike. Drilling during 2009 generated a 75% expansion in measured and indicated resources to 6.51 million oz. At mid-year 2010, Red Back reported 11 exploration drill rigs were operating on the Tasiast properties and that plans were in place to increase the drill fleet to 21 rigs as part of an extensive exploration program to further expand resources and reserves.
---
As featured in Womp 2010 Vol 07 - www.womp-int.com