Filtration Becomes a Viable Option for Environmental Compliance
Looking beyond sedimentation, more filter presses are being used for tailings applications and a way to recycle valuable process water
By Steve Fiscor, Editor-in-Chief
---
The AFP IV has 19.2 m3 of volume and 1,000 m2 of filtration area.

Developments in the field of filtration can be described best as evolutionary. Even though basic filtration principles have not changed in 100 years, the size and sophistication of modern filter presses are advancing quickly to keep pace with mining industry needs. Mines are now looking at filtration for uses beyond tradi- tional mineral processing applications.

Pressure filtration is more commonly associated with concen- trate recovery in processing base metals. Today, that role is as important as ever. As miners pursue lower grade deposits, they typically need to employ finer grinding to liberate metals and the smaller particle sizes have an impact on filtration systems. Filtration is also the final stage for most flow sheets. If the plant is having a problem, the issues almost always seem to surface in filtration although an upstream process may be at fault.

Mining companies are also considering filtration for environ- mental compliance. A change is taking place within the mining sec- tor where more companies are filtering tailings for disposal instead of relying solely on thickeners. The prevailing trend with filter press- es used in these applications is toward larger and faster machines. Similarly more mining companies are finding a better way to obtain permit approval is to stack dry tailings rather than using an impoundment. In arid regions where water is almost as valuable a resource as the minerals, filtration helps mines recover and purify water for reuse in processing applications. When water is dis- charged from a mine site, new solid-liquid filter technology offers an advantage over sedimentation.

FLSmidth Grows Filtering Capacities
In March, FLSmidth announced it had received a $31 million order from Rosemont Copper to supply 14 AFP IV automatic filter presses. These units will be the largest in the world, according to FLSmidth, and will be installed as part of Rosemont Copper's planned copper concentrator in Arizona, USA.

Using the latest technologies, Rosemont Copper will set a stan- dard for sustainable practices by using half as much water while simultaneously reclaiming a dry-stacked tailings area by re-vege- tating throughout the life of the mine.

FLSmidth's filter press technology will play a central role in achieving this innovative environmental performance. At the Rosemont site, large, heavy duty, 2- x 2-m filter presses will dewa- ter all of the tailings produced from processing 68,000 metric tons per day (mt/d) of ore through the concentrator to an optimal 16% moisture, maximizing the recovery of water for re-use in the process. The filter cake will be dry stacked, which is an integral part of a progressive tailings disposal and reclamation program.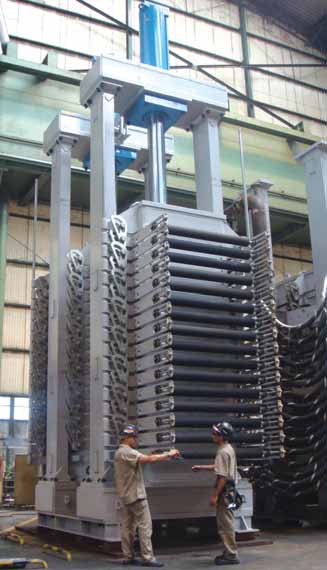 The Pneumapress Model 50 offers high capacity in a small footprint.

With more than 19.2 m3 of volume and 1,000 m2 of filtration area per filter, FLSmidth sees its AFP IV filters being used in a variety of applications. The filters can operate up to 15 bar filtra- tion pressure and are available with both recessed and membrane filter chambers. The large filter capacity unit becomes particular- ly advantageous in tailings dewatering applications where multiple filters are required to dewater large volumes of solids. Mining com- panies are expected to increasingly adopt "green" concentrator flow sheets—those that recover water for re-use in the process and improves the ability to simultaneously implement the environ- mental reclamation process. This approach, however, is site spe- cific and should not be construed as being universally applicable. The large automated filters provide mineral processing design with a viable alternative in the management of tailings.

With its large capacity, a dozen AFPs will achieve what would have required as many as 30 conventional filter presses. "The demand for larger and faster cycling machines has grown," said Reuben Neumann, global product manager-filter press technolo- gies, FLSmidth. "The Rosemont system, for instance, has a 6- minute cycle time and will produce 35 tons of filter cake every time it cycles."

"More companies are filtering tailings for pond or paste dis- posal instead of simply using thickeners for sedimentation," said Todd Wisdom, director-filtration products, FLSmidth. "They want a dry cake they can stack. In response to that request, we have developed the biggest automatic filter press in terms of capacity per machine. We have even larger units on the books."

To get to the throughput levels needed, the equipment was mostly scaled up in size, but some technology improvements were also needed, Neumann explained, especially in terms of how the fil- ter is fed. The filter elements need a consistent feed distribution to produce a uniform cake. The AFP IV is a 120-chamber unit and the use of improved technology within the unit is extensive. "Getting the entire press to open and close at once, and seal properly is an engi- neering feat," Wisdom said. "The 2 x 2-m plates have almost twice the surface area per plate as the machine's predecessor."

FLSmidth anticipates much more interest in these systems going forward. In addition to filter presses, FLSmidth also makes horizontal belt filters and different large capacity disc and pan fil- ters. FLSmidth has designed a new horizontal belt filter with more than 250 m2 of filtration area and an innovative disc filter, the E- Disc, which uses venturi vat agitation in lieu of paddle agitators.

In May 2008, FLSmidth acquired Pneumapress filtration tech- nology to enhance its solid/liquid separation portfolio. At the time of acquisition, Pneumapress had established a very successful global installation base in chemical and industrial applications and was expanding into the minerals market. Recent installations for dewatering lead, zinc and iron ore concentrates have confirmed the simple, rugged and effective design of the Pneumapress is well suited for mineral concentrate dewatering.

According to FLSmidth, the Pneumapress technology provides several key advantages over conventional pressure filtration tech- nology for dewatering concentrates. These advantages include a small footprint, a very simple filter plate design, elimination of diaphragms, isolatable filter plates, single sided filter cake dis- charge, ability to process high temperature slurries, and a high throughput per unit area. Patented technologies also allow Pneumapress filters to achieve some of the lowest cake moistures possible without the use of a dryer.

Pneumapress gives FLSmidth a different type of footprint for a pressure filter, Wisdom explained. "The system stacks the plates vertically, so it does not have as much filter area per machine. Fast filtering material, such as mineral concentrates, tend to be the best fit," Wisdom said. "It also has a unique feature. Each of the filtration chambers is isolatable and the unit can continue to oper- ate while some chambers are offline. That feature can be expen- sive because each chamber becomes a pressure filter unto itself." If a chamber has a maintenance issue, it can be isolated and the unit runs at a reduced capacity until the chamber is repaired.

As far as filter press advancements, FLSmidth is currently looking at doubling the capacity in a single machine above the AFP IV. Neumann admits there are some hurdles to overcome. "Part of our R&D efforts is studying the ability to move compo- nents," Neumann said. "The filter plate elements are getting to the point where shipping them around the world is becoming cost prohibitive. We have to look at whether we are going to stick with square elements or possibly move to rectangular ones, or some- thing entirely different." Another aspect the company is consid- ering is feed distribution inside the chambers on these larger sys- tems and how it relates to product quality and consistency, as well as filter element life.

"All of our filtration equipment must grow to handle more capacity," Wisdom said. "The driving force is lower cake moisture to eliminate downstream dryers. In a few applications, such as moly-oxides, we are able to do that with patented technology with the Pneumapress, but we need to integrate that technology into other filter lines."

Usually, when engineers discuss minerals duty filters, they are talking in terms of non-membrane applications. FLSmidth has also made some recent advances with membranes. Some systems can have membranes installed and still operate without them unless needed. "A copper concentrator might have a flotation fil- tering situation where membranes are needed 5% of the time," Wisdom said. "The other 95% of the time the filter can operate at 30% more capacity by not using the membrane."

"This integrated membrane system can be well-instrumented and automated," Neumann said. "In fact, it can be automated to the point where the system knows when to use and not to use membranes, and initiates the use automatically."

With the breadth of the FLSmidth product lines, the company can bundle equipment and offer specialized solutions that others cannot, Wisdom explained. "We can troubleshoot an entire process flow sheet," Wisdom said. "Oftentimes problems surface in filtration because it's the last step of the concentrator. If a concentrator has a problem, it will show in the filter. That doesn't mean that's where the problem originated. It could be in the grind- ing circuit or the regrind, or poor recoveries in flotation. FLSmidth can troubleshoot and optimize the flow sheet and the filters will see the subsequent improvement."

Outotec Sees the Potential in Filtration
In October 2009, Outotec acquired Larox in a deal that valued the company at approximately €93 million ($121 million). The deal was viewed as a win-win situation for both companies. An indus- try leader in filtration, Larox's complementing technologies would further strengthen Outotec's position as a global leader in mineral processing and Larox could further develop its business within a sound technology group operating in the same industry. Both com- panies are headquartered in Finland. Larox also has production facilities in China. By combining respective sales and service net- works and product portfolios, Outotec believed the merger would allow the company to provide even more comprehensive solutions and services for mineral concentrators and metallurgical plants.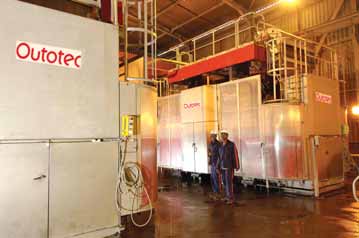 Outotec Larox PF M60 automatic pressure filters are installed at many of the world's
largest mines.

When it comes to filtration technology, Jukka Koskela, director, product management, Outotec Filters (and managing director, Larox UK), agrees that economies of scale are driving customers toward larger installations, indicating the need for bigger filtration units. "The ever-tightening environmental permitting process often means waste streams need to be filtered," Koskela said. "Waste processing is also linked with water recovery which sets high but completely different requirements for filtration. Another driver is increasing energy costs, which leads miners to seek more efficient filtration methods." As mines pursue more lean ore bodies, Koskela explained, processing technology has to be developed to handle finer grinding and smaller average particle size, which also has a heavy influence on filtration.

Outotec Filters has a wide portfolio of filter products repre- senting different filtration technologies. During the past several years, the company has launched several new filter products, including the Outotec Larox FFP fast opening membrane filter press; the Outotec Larox CC ceramic filter; the Outotec Larox RB SV vacuum belt press; and the Outotec Larox PF pressure filter, which represents the larger end of filter range.

Koskela stressed the importance of service and understanding customer needs. "The Outotec Filters strategy is to be close to the customers, understand their business logic and listen to their needs," Koskela said. "With strong focus for product development, persistent follow up and support after products have been fitted into new processes, the company has been able to fulfill expecta- tions and gain trust."

Supporting the customer on site especially during the installa- tion and commissioning phase ensures the filtration plant works as expected, Koskela explained. "As mining companies focus more on their core business, they have outsourced work for non-strate- gic segments," Koskela said. "This means there is a big need for all kinds of supporting services from training to reliable aftermar- ket services, from maintenance support to sometimes operating a filtration plant."

In recent years, Outotec Filters has been very successful with two large filtration applications—fine iron ore and gold processing. These are systems where a large quantity of ore needs to be processed, Koskela explained. "In many iron ore cases both con- centrate and tailings need to be filtered, which means huge filtra- tion capacity—thousands of square meters," Koskela said. "Often there are also requirements for maximum moisture limits due to transportation considerations or stacking requirements. In a case where there are also lot of fine particles, the only alternative is pressure filtration."

With its FFP filters, Outotec Filters pays special attention to innovative plate design to ensure best process results with the low- est possible operational cost. "A great effort has been made also to enable very high usability of the filter," Koskela said. "In prac- tice this means automated cleaning of filter cloth, very quick replacement of consumables, easy access for service points, very high safety standards, etc."

From a processing standpoint, the ideal result depends on how well the system consistently produces a homogenous cake, how well pressure changes can be controlled in the individual cham- bers, and how well the liquid and air flow can be controlled inside the filters, Koskela explained. "The most important aspect is opti- mizing the filtration sequence inside the filter," Koskela said. "This highlights the importance of understanding the filtration process, proper instrumentation and sophisticated PLC controls." In other areas of product development, Outotec Filters is looking for ways to reduce operational costs, while improving materials and compo- nents along with the development of filter media and membranes.

For years, Outotec Filters has worked with Lappeenranta University of Technology (LUT) to enhance filtration technology. Through the LUT Centre for Separation Technology (CST), the company has been able to use the university's basic research and scientific expertise, while supporting the inclusion of separation technology as one of the strategic areas of expertise at the univer- sity. Outotec Filters currently has several long-term development projects in progress that it believes will generate a real competi- tive advantage for the company in the coming years.

Antti Häkkinen has held the Larox-sponsored Professorship in Solid-liquid Separation Technology since the beginning of 2008. He is responsible for the details of the cooperation on behalf of the university and for overseeing research projects.

"Our cooperation has ensured that solid-liquid separation tech- nology is one of the most important subjects taught and studied at the Department of Chemical Technology," said Häkkinen. "The financial support from Outotec Filters has allowed us to recruit new research personnel and to develop our readiness, in terms of equipment, which would not have been possible with the basic funding of the university."

"For the university it is important that our corporate coopera- tion generates theses," Häkkinen said. "Researchers have the opportunity to use Outotec Filters projects for their graduate work, and we expect the first such doctoral thesis to be completed soon. Basing research on real and challenging industrial problems is very positive, and it clearly motivates the researchers themselves."

The list of research projects that have successfully led to com- mercial applications includes a pilot model of a filter that features ceramic media designed especially for iron ore, industrial miner- als and chemical industry filtration applications. In addition to such long-term projects, CST continuously tests the performance of different types of filter discs and disc structures, as well as the trapping mechanisms and cleaning methods of various filtration materials, such as fabrics.

Filtra Systems: A Technical Innovator
Based in Farmington Hills, Michigan, USA, Filtra Systems has two units it currently markets to the mining business: the Verti-Press and the STiR filter. The Verti-Press is a mineral concentrate dewa- tering filter, and it has been used successfully with copper con- centrates and rare earths, explained Joe Haligowski, international sales manager-filtration systems, Filtra Systems. "The Verti-Press EF is one of the most advanced cake purifying and dewatering fil- ters," Haligowski said. "The new larger machine sizes, combined with an enclosed chamber design [chamber isolation capability], lowers both initial capital and operating costs."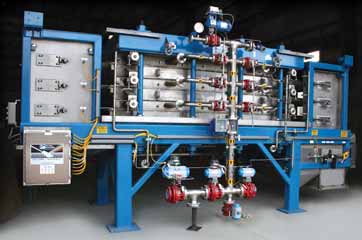 The Veri-Press can produce cakes as dry as 94% solids.

The Verti-Press can produce cakes as dry as 94% solids. It can cycle as fast as five minutes (discharge-to-discharge), which trans- lates into more throughput per machine. The machines use PLCs and are fully automated. Because the system stacks horizontal fil- ter chambers vertically, Filtra Systems believes it improves cake washing efficiency (up to 99%). The vertical design does reduce the machine's footprint in the plant.

The Verti-Press has few moving parts and Haligowski believes that is one of the more important aspects that sets it apart from competitive machines. "The filter chambers are stationary, which makes them an integrated part of the machine, and not a spare part," Haligowski said. "Filter sealing is accomplished simply by pressurizing the seals on each end of the filter chamber. The only other moving parts in the filter are the diaphragm and the filter belts. We do not use a hydraulic ram to open and close the sys- tem. We have a little bit thicker chamber depth that allows us to wash more efficiently. We use a plug flow wash instead of driving the liquid through continuously."

Technology on these system has improved in the last four to five years. "Today, we have a better process operator interface, and are more cognizant of our customers' energy use," Haligowski said. "We have a better ability to monitor what is happening inside the press, and make certain that our energy output goes into dis- charging the highest quality product from our press. As an exam- ple, we have a cake thickness program and we can look at feed trends, and automatically adjust over time. Another new innova- tion controls all pressure set points at all systems throughout the cycle which minimizes air and electricity use."

The STiR industrial water filter is an automatic back wash- able media filter that uses a bed of walnut shell media to remove suspended solids, and even oils from fluid streams. It incorpo- rates a patented fluidization technology which significantly improves filter performance when compared to other technolo- gies, such as sand and carbon media filters which do not completely fluidize the media during backwash and are susceptible to media fouling.

"We have completed projects where our technology has pol- ished water from various clarifying circuits. We are currently work- ing with very acidic solutions tied to leaching, but it's primarily been used as a water filter," Haligowski said. "This technology has been used by the steel, and oil and gas industries for about 50 years, but we are seeing more interest from mine sites due to the scarcity of water.

"It's not the use of walnut shells that makes this filter unique, it's how the system regenerates media cycle after cycle," Haligowski said. "We use a mixer [agitator] to regenerate the media. Every other technology uses a pump to fluidize. We have a specific kinetic model that we can mathematically prove is the most efficient means of cleaning the shells and removing the con- taminants. It has lowest waste generation volume (or backwash) possible." Under normal operating conditions, STiR filters remove 95% to 99% of suspended solids and 90% to 99% of insoluble hydrocarbons, at 2 microns without the use of chemicals.

Mining companies are considering this equipment for clarifier overflow circuits and realizing a benefit to reducing polymers or flocculant use. "If a mine were to polish clarifier overflow with a STiR filter, they could significantly reduce the use of those chem- icals and the associated costs," Haligowski said. "Our main installations are in molybdenum and copper processing where they are purifying the water to improve the efficiency of the cir- cuit." Mine sites can also use this system to pull heavy metals from discharge water.

Filtra Systems recently installed a STiR system at a mine site in Colorado. It is an inactive mine site that processes water from a molybdenum deposit. The various minerals that are dissolved in the water are first precipitated via an engineered pH change, solids are skimmed, and the water is then filtered and then discharged.

Prior to installing the STiR system, the plant operated with a 42% recycle rate, due to the frequent and lengthy sand filter cleaning cycle, by each of the four 12-ft diameter sand filters. "The recycle rate has been reduced to a maximum of 3%—a reduction of more than 10 times—while also achieving cleaner effluent water," Haligowski said.

As a technical innovator, one of the frustrations that Filtra Systems has experienced working with the mining business is that it is difficult to find customers who are willing to champion new process technology, Haligowski explained. "We have to prove our technology everyday," Haligowski said. "We do that with onsite pilot projects. We develop technologies that improve processes by orders of magnitude, not by percentage points, but customers have to be willing to allow us access to their process, and to roll up our sleeves, and get our hands dirty.".
---
As featured in Womp 2010 Vol 06 - www.womp-int.com