Harrison Western Wins Plant Award
---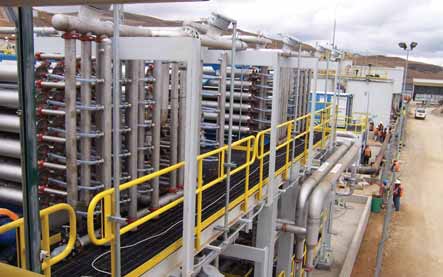 Harrison Western Group subsidiary HW Process Technologies will build and operate a 3.7-million gallon/day
water treatment plant, similar to the facility shown here, at the Cobre Las Cruces copper mine in Spain.

An increasing volume of contract awards and corporate announcements points to a trend within the mining industry to allocate more attention and resources to water management.

Harrison Western Group subsidiary, HW Process Technologies, has been awarded a contract valued at $22 million to design, install, commission and operate a new water treatment plant at the Cobre Las Cruces (CLC) copper mine near Seville, Spain. CLC is 70% owned by Canadabased Inmet Mining Corp. and 30% by U.S.-based Leucadia National Corp.

The contract was awarded to HWPT under a joint venture with MP Medioambiente S.L., a Spanish water management company. HWPT will design, engineer, and build the plant utilizing its patented membrane-based water treatment technology. According to HWPT, the water treatment and re-injection plant will represent a milestone in the Spanish mining industry. Work is under way and the project is scheduled for completion and commissioning by the end of 2010.

The new plant will treat up to 3.7 million gal/d of mine water from the dewatering and re-injection system using HWPT's patented technology known as Engineered Membrane Separation (EMS) before being re-injected into the aquifer. HWPT said the treated water will comply with strict environmental standards issued by the Andalusian Water Agency and allows the mine to operate at full capacity year round. Cobre Las Cruces can process up to 72,000 mt/y of copper, accounting for 25% of total Spanish domestic consumption.

Taking the trend a few steps further, Nalco Australia said it is now integrating water, energy and air for mine site environmental management packages.

"The mining industry in this country puts a high value on water," said Rob Wilcox, Nalco Australia's regional marketing manager, mining. "For that reason, miners tend to be careful around use and consumption patterns."

The company claims its technologies such as 3DTrasar and Mobotec are gaining importance as the emphasis shifts, worldwide, from focus specifically on water to a more holistic approach to site environmental management including water, energy consumption and air quality.

Wilcox concedes the product line leans toward water-oriented applications but argues that the philosophy of the company and its product range is to make water work harder and deliver long-term sustainable efficiency, productivity and profitability benefits. To illustrate the point he used the example of an underperforming flotation cell.

"Through an analysis of site, such as using 3DTrasar to map the float cell circuit we can determine a program—including the appropriate additives—to get the cell working more efficiently. That's water management. The next step is to look at energy management.

"With the cell working to peak efficiency the cost per ton reduces, which translates to energy savings per unit of production. Finally air quality is improved, along with the EH&S requirements, because the additives we have incorporated into the overall performance program for the cell are considerably less toxic than those they have replaced," Wilcox said.
---
As featured in Womp 2010 Vol 05 - www.womp-int.com