Ivanhoe Releases Updated Oyu Tolgoi Development Plan
---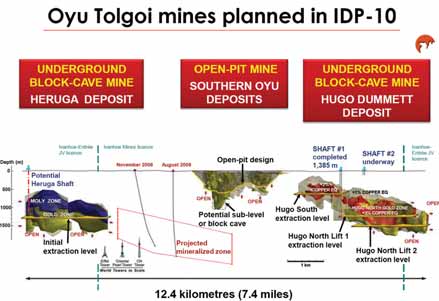 Ivanhoe Mines has released a new, independent integrated development plan (IDP-10) for the Oyu Tolgoi copper-gold project in southern Mongolia that includes two complementary development scenarios. A reserve case is based only on current proven and probable reserves, which would sustain mining for 27 years. A life-of-mine sensitivity case is based on reserves plus inferred resources and projects a mine life of 59 years. In both cases, the average production at Oyu Tolgoi over the first 10 years of operation would exceed 544,000 mt/y of copper and 650,000 oz/y of gold.

Under the terms of an investment agreement signed in October 2009, Ivanhoe Mines owns 66% of Oyu Tolgoi and the government of Mongolia owns the remaining 34%. Rio Tinto, in turn, owns 22.4% of Ivanhoe Mines. Based on the favorable economics outlined in IDP- 10, Oyu Tolgoi's owners are proceeding with construction of the project, with production expected to begin in mid-2013.

The reserve case scenario sets out the likely path of development for the initial phases of the Oyu Tolgoi group of deposits—stages 1 through 9 of the open-pit on the Southern Oyu deposits and the first lift of an underground blockcave mine on the Hugo North deposit. The planned open pit contains proven and probable reserves of 955 million mt, grading 0.49% copper and 0.35 g/mt gold. The higher-grade first lift of the planned underground block cave on the Hugo North deposit contains 437 million mt of probable reserves, grading 1.90% copper and 0.42 g/mt gold. Total production of 11.5 million mt of copper and 13.1 million oz of gold is projected from mining only the open pit and the first lift of the underground block cave.

The concentrator would have an initial throughput capacity of 36.5 million mt/y, which would be increased to 58 million mt/y by the end of the fifth year of operations. Peak single-year production is estimated at 800,000 mt of copper and 1.1 million oz of gold.

The life-of-mine sensitivity case reflects flexibility that exists for later development of the Heruga deposit, the Hugo South deposit, and the second lift of the Hugo North deposit. These subsequent phases will require separate development decisions in the future based on conditions prevailing at the time and the experience gained from developing and operating the initial phases of the project.
---
As featured in Womp 2010 Vol 05 - www.womp-int.com