Hydro Acquiring Vale Bauxite, Alumina and Aluminum Assets
---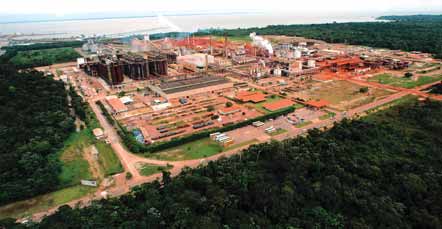 Among the facilities included in a proposed $4.9-billion sale of aluminum-related assets in Brazil, Norsk
Hydro will acquire the Alunorte alumina refinery, shown here, from Vale. The sale also includes the
Albras aluminum smelter, the CAP alumina refinery, eventual 100% ownership of the Paragominas bauxite
mine, and various licenses, offtake agreements and alumina sales assets

In a transaction valued at $4.9 billion, Norsk Hydro ASA (Hydro) and Vale announced in early May 2010 that Hydro will acquire all of Vale's stakes in the Albras aluminum smelter, the Alunorte alumina refinery, and the CAP alumina refinery project in Brazil—stakes that when added to current Hydro minority participations will give Hydro a 51% ownership in Albras, a 91% ownership in Alunorte, and an 81% ownership in CAP. Ahead of the transaction, Hydro already has a 34% interest in Alunorte and a 20% interest in CAP. Hydro will also acquire a 60% interest initially and 100% ownership by 2015 of the Paragominas bauxite mine. The transaction also includes additional bauxite licenses; a volume off-take agreement for Vale's 40% stake in the MRN bauxite mine, in which Hydro holds 5% ownership; and an alumina sales contract portfolio.

The transaction significantly adds to Hydro's equity ownership of upstream bauxite and alumina resources to feed its aluminum smelters in Norway and elsewhere. The Paragominas mine is the world's third-largest bauxite mine and is currently undergoing a capacity expansion from 9.9 million to 15 million mt/y to supply the CAP refinery. The CAP project is an alumina refinery under development, with an initial capacity of 1.86 million mt/y and expansion potential up to 7.44 million mt/y. Alunorte is the world's largest alumina refinery, and Hydro's 91% share of Alunorte production will total about 5.7 million mt/y. Albras is a hydro-powered aluminum plant, with a capacity of 455,000 mt/y.

Payment by Hydro to Vale will include Hydro shares valued at about $3.1 billion, which will give Vale a 22% interest in Hydro; $1.1 billion in cash; and assumption of $700 million in debt. The Norwegian government's ownership in Hydro will be reduced from 43.8% to about 35.5%.

Under the terms of the agreement, Vale cannot increase its ownership in Hydro beyond the 22% contributed as part of the transaction. Vale will retain its shares in Hydro for at least two years after the transaction closes, and, following the two-year period, will not sell shares constituting more than 10% of Hydro's issued shares to any single buyer or group.

Hydro will establish a regional headquarters in Rio de Janeiro and will receive cash flow from the acquired alumina and aluminum production activities from January 1, 2010. In total, around 3,600 Vale employees will become part of Hydro as a result of the transaction.

Vale is the world's second-largest mining company and largest producer of iron ore. Its aluminum activities represented about 8% of its revenues and 3% of its profits in 2008.
---
As featured in Womp 2010 Vol 05 - www.womp-int.com