Vertical Mills Gain Size While Drives Get Simpler
---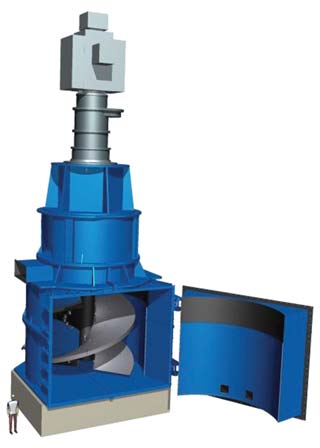 Metso says its 3,000-hp VTM-3000-WB Vertimill can
reduce or eliminate the usual requirement of installing
several vertical mills to accomplish the same grinding
task that can typically be done by a single ball mill.
Newcrest Mining will install the big Metso VTM in a tertiary
grinding circuit this year at its Cadia Valley gold
mine in NSW, Australia.

Two recent developments in vertical mill applications highlight the industry's increased focus on energy-efficient grinding of ores and construction materials, as well as on improved electrical performance and safety features of vertical mill drive systems.

Metso reported the first 3,000-hp (2240-kW) Vertimill (VTM) will be installed at Newcrest Mining Ltd.'s Cadia Valley gold mine in New South Wales, where it will operate in a tertiary grinding circuit. According to Metso, the Cadia operation already has several smaller Vertimills running in regrinding circuits, with another VTM grinding SAG product in parallel with a ball mill.

Metso said vertical mills have been proven to grind more efficiently than ball mills with feeds as coarse as 6 mm to products finer than 20 microns, and it has become the industry standard in concentrate regrind applications—but to date vertical mills have achieved only limited acceptance for large-scale, coarser applications.

At the introduction of the VTM-3000- WB at MINExpo 2008, Metso noted almost 85% of the 300 Vertimills it has sold in the past 20 years for regrinding applications have relatively fine feed and product size (less than 100 microns).

It attributes industry reluctance to employ vertical mills in primary and secondary grinding to the fact that multiple vertical mills are required to perform the same task as a single large ball mill. The new VTM-3000-WB, however, reduces the number of units required, and with the installation of the big Vertimill Cadia, stated Metso, will have the necessary grinding power to meet its product size requirements with a single unit.

"The VTM-3000-WB is an enabling technology that allows operations like Cadia to get the maximum payback and profitability for their grinding projects," said Jonathan Allen, Metso's Vertimill product manager. "It has all of the same components and therefore the same advantages as smaller VTMs, but with the added advantage of lowering total capital cost and maintenance."

Newcrest is Australia's largest gold producer and one of the world's top 10 gold mining companies by production, reserves and market capitalization. The company has five operating mines in Australia, one in Indonesia, and one in Papua New Guinea. Its Cadia Valley operations, which exploit a large, low-grade ore deposit requiring high throughputs to maintain profitability, began with the Cadia open-cut mine and concentrator commissioned in 1998, followed by the adjacent Ridgeway underground mine and concentrator commissioned in 2002. Current capacity at Cadia is 17 million mt/y and at Ridgeway 5.6 million mt/y.

The near-surface ores are being worked out, so to ensure the longer term future at Cadia Valley, Newcrest is developing two underground projects, Ridgeway Deeps and Cadia East.

The changing ore feed to the Ridgeway concentrator necessitates additional grinding power. Leigh Cox, general manager of Newcrest's Cadia projects, said additional grinding ultimately means improved recovery. "The VTM-3000-WB allows our high grade plant to operate at a higher throughput rate, or attain finer grind."

According to Metso, in addition to the process advantages offered by the Vertimill, the project also had space limitations, making the small footprint of a single VTM an attractive solution.

The VTM was to be delivered mid-March and commissioned by the end of June. Installation support and process commissioning services are included. Metso achieved a production breakthrough in vertical mill manufacturing capabilities when it acquired the Lachine foundry in Montreal, Quebec, from GE in 2008, enabling it to economically build machines the size of the VTM-3000-WB, while offering lead times shorter than those for typical ball mills.
---
As featured in Womp 2010 Vol 04 - www.womp-int.com