Canada Lithium Plans Mine Startup by Late 2012
---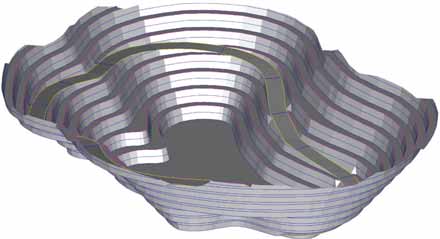 Canada Lithium anticipates initial production of almost 3,000 mt/d of ore, providing 19,300 mt/y of Li2CO3 from
early-stage open-pit mining at its Quebec Lithium project. Shown here is an illustration of preliminary pit design.
(Photo courtesy of Canada Lithium Corp.)

Canada Lithium Corp. has received a positive, NI 43-101 compliant prefeasibility study of its Quebec Lithium project 60 km north of Val d'Or, Quebec. Prepared by BBA Inc. of Montreal in conjunction with SGS Lakefield, Golder Associates, Genivar Inc., and Caracle Creek International Consulting, the study proposes a Stage 1 open-pit operation producing 2,950 mt/d of ore and 19,300 mt/y of high-quality Li2CO3 on site. Total initial capital costs are estimated at $148 million, including a $27-million contingency.

"This study is a good indication that the Quebec Lithium property can compete financially with most of the lithium brine prospects under development but on a much faster timeline," Canada Lithium President and CEO Peter Secker said. "Canada Lithium is positioning itself to become a significant, secure North American supplier of high-quality lithium carbonate within the next two years." The company has a marketing agreement with Mitsui and is in discussions with North American lithium buyers based on demonstrated product quality from bench-scale tests conducted by SGS Lakefield.

Stage 1 of the Quebec Lithium development covers a production period of 14.8 years. A definitive feasibility study scheduled for completion during the first quarter of 2011 will consider a staged expansion to higher production levels.

Open-pit mining will be carried out by a fleet of 10-m3 hydraulic excavators, front-end loaders, and 100-mt haul trucks and an ancillary fleet of dozers, graders, and water trucks. The stripping ratio will be about 4.26:1.

The proposed processing plant design is based on conventional crushing, grinding, and flotation to produce a 6.5% Li2O spodumene concentrate. Lithium recovery at this stage is expected to be 82.6%. The flotation circuit is followed by a secondary pyrometallurgical/ hydrometallurgical treatment process comprising a rotary conversion kiln, leaching circuit, a series of precipitation tanks, washing/filtration circuits, and a packaging system to produce >99.5% battery-grade Li2CO3 product. Recoveries in the secondary stage are expected to be 82.8%, for an overall process plant lithium recovery of 68.4%.

During the definitive feasibility study, Canada Lithium will evaluate technologies to increase overall lithium recovery and review the possibility of converting some of the plant tailings streams into potentially saleable valueadded byproducts.
---
As featured in Womp 2010 Vol 04 - www.womp-int.com