Bucyrus to Acquire Terex Mining
---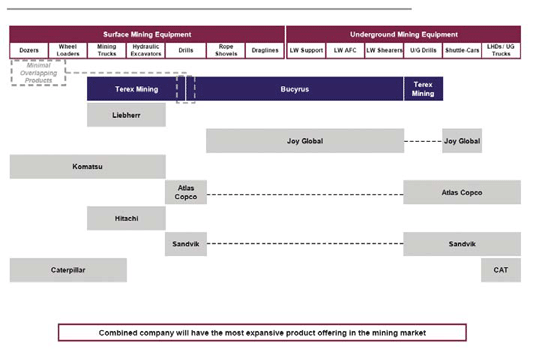 With the acquisition of Terex Mining, Bucyrus would have the largest product line for mining.

Bucyrus International announced in late December that it had signed a definitive agreement to acquire the mining equipment business of Terex Corp. for $1.3 billion in cash. Terex may request to receive $300 million of the purchase price in the form of Bucyrus stock. The transaction would make Bucyrus one of the largest suppliers of mining machinery. In addition to the company's existing line of draglines, electric shovels, conveyor systems and underground coal mining equipment, the transaction would add hydraulic excavators, haul trucks, and highwall miners, and a create a full line of drills for surface mining applications.

The deal is not subject to shareholder approval by either company and is expected to close by the end of February 2010. Bucyrus CEO Tim Sullivan said, "Customers will reap benefits from this transaction as Bucyrus will be able to offer a broad, complementary product line that is driven by technology, quality and first class service. We will expand our geographic footprint and diversify our portfolio of products across a broader range of commodities."

The acquisition includes the brands commonly known as O&K, Unit Rig, Reedrill, Superior Highwall, Halco, and Hypac. Similar to the DBT acquisition in 2007, all of these machines will be rebranded as Bucyrus mining gear. Terex Mining has 38 facilities around the world with approximately 2,150 employees. Bucyrus will employ a team of approximately 10,000 people in nearly 100 locations around the world.

Terex acquired the O&K line of hydraulic excavators, which are manufactured in Dortmund, Germany, about 10 years ago. Excavators represented about 50% of the revenue stream for Terex Mining in 2009. "We view this as a complementary product line to electric shovels," Sullivan said. "The hydraulic excavators fill in the lower end of the market that requires diesel-electric powered equipment and more mobility in the pits."

In 2004, Caterpillar and Terex signed a supply agreement which allowed Cat dealers to sell and service Terex O&K hydraulic mining shovels in certain markets, usually those where Terex was not established. The Cat dealer network was responsible for about a third of the hydraulic excavator sales for Terex Mining in 2008. Cat distribution has been very successful in installing hydraulic excavators in remote locations, Sullivan explained.

"We would obviously like to have the relationship continue, but we also think we can effectively grow the hydraulic excavator market penetration in our traditional areas where we deal direct right now with our customers," Sullivan said. "We will continue to have those discussions with Cat. We know them well and we have always had a great relationship with them, but it will be a challenge in some respects."

Unit Rig haul trucks are currently manufactured in Acuna, Mexico, and complement both the electric shovels and hydraulic excavators. Haul trucks represented about 20% of Terex Mining's revenue in 2009. "Terex Mining has invested a significant amount of money upgrading the haul truck line," Sullivan said. "Prototypes are now running in the oil sands and showing good results. The Terex haul truck in general is well-built and very well-positioned. Where they have had issues is having the infrastructure to support the trucks in the marketplace and that is something that Bucyrus will bring to the table. We also have alliance agreements with multi-national mining companies and that should improve market share."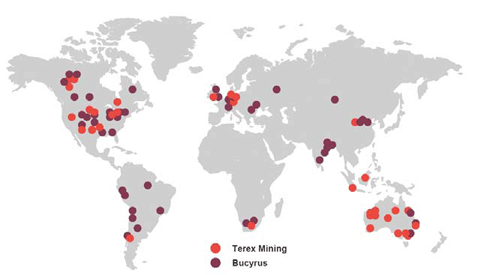 As shown on this map denoting global locations, a minor amount of regional overlap exists between
the two companies, but for the most part Terex Mining has locations where Bucyrus does not.

Terex's Reedrill line, manufactured in Denison, Texas, is predominantly dieselhydraulic rotary blasthole drills and downthe- hole hammer drills. Blasthole drills represented 12% of the 2009 revenue stream for Terex Mining. "This line of relatively smaller drills complements the existing line of Bucyrus blasthole drills," Sullivan said. "This will help Bucyrus penetrate markets that were formally unreachable due to the large size of its electric blasthole drills." Superior Highwall Miners, which sells equipment manufactured in Beckley, West Virginia, to retrieve coal from thin seams, has experienced enormous success in contour mining applications in Appalachia, Sullivan said, noting, "We believe the technology also has global potential, especially in Russia and China."

For Bucyrus, the deal represents significant synergies with increased after-market penetration, global facility integration and purchasing power for raw materials. "Our installed machinery base will grow from about $29 billion to $40 billion and create some great after-market opportunities," Sullivan said. "The new global manufacturing and sales footprint will also provide incremental access to growing economies. We believe Bucyrus is well-positioned in BRIC countries, however, Terex Mining is much better positioned on the surface mining side of the business in China and the Asian Pacific markets, especially in Indonesia, where Bucyrus has little or no market share."

The two companies have a compatible manufacturing and sales footprint. "There will be some reasonably small capital expenditures in some established markets where we think we need it to give the products more traction, but by-and-large these products will fit hand-in-glove with what we already have worldwide," Sullivan said. "We have met with the senior management team at Terex Mining. The cultures are very similar and we should have no problems with integration."

A minor amount of overlap exists between the two companies, but for the most part Terex Mining has locations where Bucyrus does not. In Australia, for example, Terex has a new 50,000-ft2 re-manufacturing shop in Perth, Western Australia. In New South Wales and Queensland the facilities are located very close to each other. "We have a brand new facility in New South Wales and we will probably consolidate operations there," Sullivan said. "Interestingly, in Mackay [Queensland], the DBT and Bucyrus offices were next door, and now Terex is across the street. In a few rare cases, we are right on top of each other. We were pleasantly surprised though by the fact that Terex has good infrastructure where we do not and vice versa. We do not foresee a lot of brick and mortar closings. We are going to need all of it."

In the 10 years since Sullivan returned to Bucyrus, the company has pursued an aggressive growth path. "Clearly we will have the broadest equipment line of all mining suppliers, which positions the company well for what is happening with large multinational mining companies as well as cultivating relationships with small and medium size miners," Sullivan said. "What they want is a company that is large enough and strong enough with a broad enough portfolio of products to keep pace with their expansion projects around the world." Bucyrus will now compete for $30 billion of the mining machinery spend, which would double its business.
---
As featured in Womp 2010 Vol 01 - www.womp-int.com