Emirates Aluminum Fires Up First Pot at Abu Dhabi Smelter
---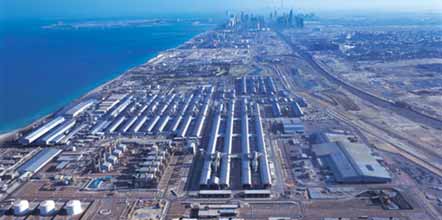 Abu Dhabi's cumulative aluminum production will expand significantly as early output from the new EMAL smelter,
scheduled to reach 700,000 mt/y of aluminum over the next year or so, combines with the 980,000-mt/y capacity
of Dubai Aluminum's Jebel Ali smelter, shown here. Dubai Aluminum is a joint venture partner of a Dubai government
investment entity in the EMAL smelter.

Emirates Aluminium (EMAL) energized the first pot at its new aluminum smelter in the Khalifa Port Industrial Zone at Taweelah, Abu Dhabi on December 1, 2009. A joint venture of Dubai Aluminum (Dubal) and the Abu Dhabi government's investment vehicle, Mubadala, the EMAL smelter utilizes Dubal DX technology and will ramp up to Phase 1 design capacity of 700,000 mt/y of primary aluminum over the next 12 to 14 months.

Phase 1 of the EMAL smelter will cost about $5.7 billion to complete and will include 756 reduction cells arranged in two pot lines, an on-site 2,000-MW power plant, an anode manufacturing plant, and a multiproduct cast house. Products will include aluminum sow, standard ingot, billet, and sheet ingot. Phase 2, when complete, will double production capacity to 1.4 million mt/y and will make EMAL the world's largest single-site aluminum production facility.

Dubal currently has production capacity of more than 980,000 mt/y of hot metal at its aluminum smelter at Jebel Ali, Dubai.
---
As featured in Womp 2010 Vol 01 - www.womp-int.com