Liebherr Expands R 9250 Hydraulic Excavator/Shovel Range
---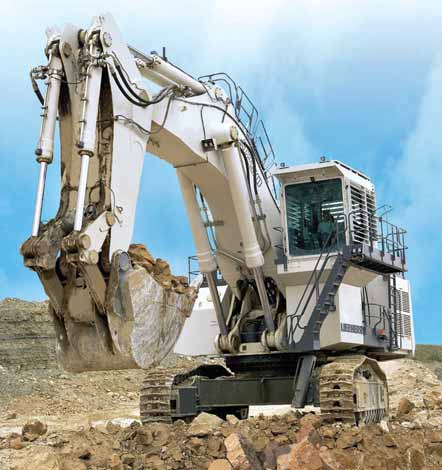 The diesel-powered version of Liebherr's R 9250 hydraulic excavator, shown here, will now have an AC-powered
stablemate, the R 9250E.

Following the launch of the R 9250 excavator at bauma 2007 and the presentation of the first shovel version at MINExpo 2008, Liebherr is now making this successful model available with an electric drive unit option. Significant fuel price increases during recent years have led many mining operations to investigate alternative energy sources. In designing this latest option, Liebherr engineers drew upon many years of experience gained from the deployment of the company's electrical excavators worldwide. In particular, experience with the R 9350 Electric has been applied in the development of the R 9250E. The new model supplies a nominal motor output of 1,050 kW (nominal excavator power of 1,100 kW) in 6,000-v and 50-Hz networks. The AC squirrel cage motor, according to the company, requires minimal maintenance so that uptime and machine utilization are significantly greater. All electrical installations are protected on IP 55 EN 60529 Standard and the electrical compartments are sealed and secured to withstand harsh mining conditions.

The standard version of the R 9250E is equipped in backhoe configuration with a 9-m gooseneck boom and a 4-m stick. In face shovel configuration the machine is equipped with a 6.3-m swing boom and a 4.2-m stick. In both configurations the machine has a nominal bucket capacity of 15 m3. Bucket capacities are flexible depending on the material properties and mine site requirements. Only three bucket loads are required to load an 80-mt truck, with four to five bucket loads for a 120-mt hauler. The first units have been delivered to Russia and have commenced operation.
---
As featured in Womp 2009 Vol 10 - www.womp-int.com