Getting the Facts Right for Idler Rightsizing
Mining operation finds upsizing to CEMA E idlers worth its weight in gold
By Jean Lucas
---
After experiencing high maintenance requirements and abbreviated service life on
CEMA D-spec idlers used on its crusher- plant conveyors, Barrick Gold's Goldstrike
mine upgraded to Superior Industries' CEMA E idlers with good results.

Barrick Gold Corp. maintains 27 operating mines and boasts the largest gold and copper reserves in the industry. Barrick is targeting its 2009 gold production at approximately 7.6 million oz and copper production at 400 million lb. Its Goldstrike property, located near Elko, Nevada, USA, is the company's largest gold producing operation with output exceeding 1.65 million oz annually and an employee roster topping 1,300 workers. Treating ore from one open-pit and two underground operations, the Goldstrike mine combines two processing facilities—an autoclave circuit, which treats non-carbonaceous sulphide (refractory) ore; and the roaster, which treats carbonaceous ore.

Mark Morfin is the wet mill crusher maintenance supervisor for Barrick Goldstrike's autoclave facility. From initial material feed to final stockpiling, his challenge is maximizing uptime—no small undertaking for a 24/7 operation with capacity of more than 12,000 t/d from its gyratory crushing circuit and 7,000 t/d from its jaw circuit. As such, Morfin welcomes the right solutions from equipment and component suppliers. For example, he notes that a recommendation from equipment dealer CIR of Sparks, Nevada, resulted in a significant decrease in maintenance downtime in replacing failed idlers. CIR is a representative for Morris, Minnesota-based Superior Industries, a manufacturer of conveyor equipment and components.

After consulting with Superior engineers, Morfin removed another brand of CEMA D idlers and upsized to Superior CEMA E idlers on a 60-in. by 150-ft-long belt conveyor which draws material from underneath a crusher. "This belt takes a big beating. The ore that hits the belt is minus 4½-inch material, loaded a foot deep. So that's a lot of weight," said Morfin. He added that he is pleased with the new idlers, particularly because they feature a sealed bearing that requires no greasing, plus the ability to retrofit to competitor frames or to previous Superior frames.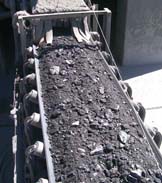 This 60-in.-wide, 150-ft-long conveyor
transports material from Goldstrike
mine's wet side crusher circuit.
The heavy belt loads caused
CEMA D-spec conveyor idlers
to fail within weeks.

Prior to the installation of the Superior CEMA E idlers, Morfin said they would have to shut down the crushing circuit at least once a week (after stockpiling enough material) just to change out rolls or entire idlers on the heavy-duty conveyor. "From just days to a week or two, we were wearing them out. They would start to make noise and then seize up long before the actual roll would wear out. It was always a bearing failure," he said. After upsizing to the CEMA E idler, Morfin says that this downtime is eliminated and he gets the same desired wear life from the CEMA E idler on the heavyduty conveyor that he would get from a CEMA D idler on his smaller systems.

Selecting the right idler for an application involves much more than mere calculations. "In running the numbers on an application such as the one at Goldstrike, it may indeed be within the CEMA D idler range. But you must also factor in the amount of vibration and impact load, which is what will really change those numbers," said Jarrod Felton, chief engineer of standard products for Superior Industries. "In this application, the belt is operating from the primary crusher, so there could be significant vibration just from the crusher depending upon how it's mounted. This belt is also located on the wet mill side of the operation, so the material is heavier than the dry material and has a little more density."

Felton emphasized that it is often difficult for customers to determine the exact actual load on the bearings—it is not as simple as determining the average tons per hour that travel on the belt. Load impact and ultimate wear life are affected by lump size, drop height, surge loading, idler misalignment, and the practice of mixing different brands of idlers on the same belt. "Some of these idlers are rated higher and some lower, so the actual load will affect some more than others," he said.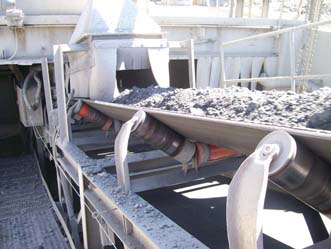 The Superior Industries CEMA E idlers now in place under the crusher plant
conveyor feature sealed bearings that require no greasing, and are retrofittable
to competitor frames or to existing Superior frames.

According to the CEMA manual, the main influences in idler selection are belt weight, material weight, idler load rating, belt sag, idler life, belt rating and belt tension. And, proper idler roll diameter, size of bearing, and shaft selection are based upon the load carried, belt speed and operating conditions.

However, in addition to all of the aforementioned parameters, Felton pointed to the importance of seal design. "What is often ignored is that bearings may fail due to the load, but they may also fail due to contamination, or a combination of both. This is why seal design and technology is so important."

The new Superior Industries CEMA E idler used at Goldstrike features 40-mm precision-sealed ball bearings, which eliminate maintenance labor and grease requirements while extending bearing life, according to the company. Its SpinGuard seal design technology features improved contact seals that result in less seal drag; triple labryrinth seals that increase the distance that contaminants must travel; and grease fills that easily trap contaminants. The idler is also designed to eliminate pinch points between the end stand and the outside roll, as the pinch points in typical idlers allow foreign materials to lodge within them, causing the roll to seize up.

Bottom line, according to Felton, is that there may often be a little trial and error in idler specification. "You just have to take your best shot. However, sticking with the same manufacturer and the same sealing technology as you upsize will ensure that you gain that longer life from bearings with a higher load rating. And, if you have a high enough load rating, you will have little worry. Overkill is less expensive than finding out that the idler is not sufficient enough for the load. While there are other products available to handle impact in the loading areas, such as impact idlers or impact beds, upsizing idlers works well, too."

Rightsizing the idler and maximizing its performance is one more way that producers can cut costs and maintain profitability. Morfin reports he is getting the wear life he needs from the new idlers. Plus he is pleased with the support he gets from the dealer and the factory. "The reps have been great and they really make life easier for me," Felton said.

Information for this article was provided by Superior Industries (www.superior-ind.com), Morris, Minnesota, USA.
---
As featured in Womp 2009 Vol 07 - www.womp-int.com