Mirabela Starting Up at Santa Rita
---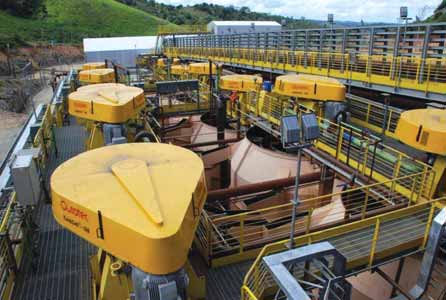 Shown here is a portion of the flotation circuit at Mirabela Nickel's Santa Rita nickel project in Bahia state,
Brazil. Startup of the 4.6-million-mt/y (ore) operation is scheduled for late September 2009.
(Photo courtesy of Mirabela Nickel Ltd)

Mirabela Nickel Ltd., an Australian company headquartered in Perth, Western Australia, announced in early August 2009 that it had begun owner-operated mining at its 100%-owned Santa Rita open-cut nickel sulphide mine in Bahia state, Brazil. Concentrator construction was nearing completion, and commissioning was expected to begin in late September. Pre-stripping of the Santa Rita open cut was completed by contract miners, who stockpiled about 170,000 mt of run-of-mine ore as part of their work.

Santa Rita is starting up at a mine production rate of 4.6 million mt/y of ore, increasing to about 6.4 million mt/y by mid-2010. The strip ratio is 7.2:1. Production of nickel in concentrates is targeted at 18,500 mt/y at startup, ramping up to 26,000 mt/y by mid-2010. Production costs are estimated at $2.88/lb of nickel produced after by-product credits.

Mirabela has five-year off-take agreements through 2014 for 100% of its concentrate production, 50% to Norilsk Nickel and 50% to Votorantim. Concentrates purchased by Norilsk will be trucked 140 km to the Port of Ilheus and shipped to Norilsk's Harjavalta smelter in Finland. Votorantim will purchase concentrates at the mine gate for transport overland to the Forteleza smelter in Minas Gerais.

Surface mine development at Santa Rita is based on proven and probable reserves totaling 121 million mt, grading 0.6% nickel and 0.16% copper and containing 726,000 mt of nickel. Mine life based on these reserves is estimated at 19 years. The project also has an inferred underground resource of 87.5 million mt, grading 0.79% nickel and 0.23% copper and containing 690,000 lb of nickel.

The initial company-owned mining fleet at Santa Rita includes four Caterpillar 777 trucks, two D9 tracked bulldozers, and a grader. From September 2009, a second delivery is scheduled of Caterpillar 785 trucks, two additional Caterpillar 777 trucks, and Terex O&K RH90 and RH120 excavators. The mining fleet is owned and operated by Mirabela under a lease finance arrangement with Caterpillar Financial.
---
As featured in Womp 2009 Vol 07 - www.womp-int.com