Suit Seeks to Halt Pebble Exploration
---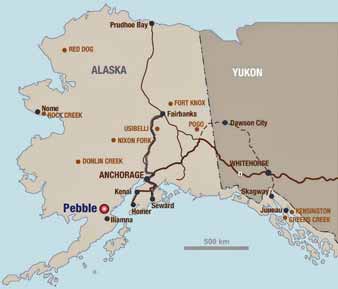 A Bristol Bay Alaska Native organization and several individuals filed a civil suit in Anchorage Superior Court on July 29, 2009, asserting that the Alaska Department of Natural Resources (DNR) repeatedly violated the Alaska Constitution in granting permits for Pebble mine exploration. The Pebble copper-gold-molybdenum project in southwest Alaska is being developed by the Pebble Limited Partnership, a 50:50 partnership between a wholly owned U.S. subsidiary of Anglo American and a wholly-owned entity of Northern Dynasty Minerals. The partnership was formed in July 2007 when Anglo American agreed to acquire its interest in exchange for a staged cash investment of $1.425 billion. The project has generated ongoing opposition from local groups and NGOs.

The lawsuit asserts that rich salmon, wildlife, and subsistence resources in the project area are being negatively impacted by exploration activities and asks the court to halt exploration until the case is resolved. "DNR has neglected its legal and moral obligation to protect Bristol Bay's subsistence resources," said Bobby Andrew, spokesperson for Nunamta Aulukestai, a lead plaintiff. "Current exploration is having a serious impact on water and wildlife, yet the agency continues to rubber stamp permits and ignore the public interest."

The plaintiffs have also asked the court to void all exploration permits already issued by DNR to the Pebble Limited Partnership, Pebble East Corp., and Pebble West Corp.
---
As featured in Womp 2009 Vol 07 - www.womp-int.com