Stillwater Looks to a Future without Auto Contracts
---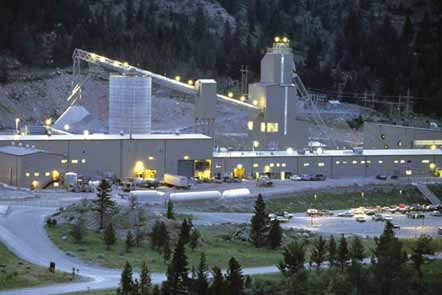 A court judgment freeing automaker General Motors from a palladium/platinum supply agreement with Stillwater
Mining will likely cost the U.S.-based metals producer between $5 million and $10 million annually, according to
its CEO, and will make the company more vulnerable to a possible drop in PGM prices. Shown here are the
surface facilities at its mine in Nye, Montana. (Photo courtesy of Stillwater Mining).

Stillwater Mining, which operates two mines and a platinum group metals processing complex in southern Montana, is dealing with the fallout of a U.S. Bankruptcy Court decision that allowed General Motors to back out of a palladium and rhodium supply agreement with the company. Stillwater executives met briefly with General Motors on August 13, 2009, but board Chairman and CEO Francis R. McAllister said the meeting did not yield any positive results for Stillwater, its employees and other stakeholders, or the communities in which it operates.

Addressing the impact of the court decision on Stillwater in the company's report of its second quarter 2009 results, dated August 5, 2009, McAllister said, "On July 7, 2009, General Motors filed a petition with the bankruptcy court seeking approval to reject our executory supply agreement with them. We filed an objection with the court, but following a hearing on July 22, 2009, the judge approved the GM request, thereby effectively voiding our supply contract with GM.

"While we will still be able to sell the metal that previously would have been delivered to GM—there are well-established terminal markets for platinum and palladium that we access frequently— going forward we will lose the benefit of the floor prices in the GM supply agreement. The financial effect of losing these floor prices depends on what happens to market prices for PGMs in the future, but at price levels prevailing during the second quarter, we estimate that the loss of the floor prices will cost us in the range of $5 million to $10 million per year.

"In view of our current liquidity position and the progress we have made to date in bringing down our cost structure, I believe that we positioned ourselves to reduce the full brunt of this financial setback. Even without the GM filing, we have recognized for some time now that our automotive supply agreements have finite life, and consequently we have been trying to position the company for viability after they expire. Our other remaining automotive supply agreement is with Ford Motor Co., which is scheduled to expire at the end of 2010. While the specific commercial terms of that agreement are confidential, it also contains floor and ceiling prices that have been beneficial to the company during periods of low PGM prices.

"Many of the steps we have taken to restructure our operations are designed to better position the company for the period after these contracts have expired. As a result, we are not badly positioned for this unexpected early termination of our GM contract. However, loss of the GM agreement somewhat increases the company's vulnerability to a prolonged decline in PGM market prices."

Stillwater reported a net profit of $4.2 million for the second quarter of 2009, down from $16.3 million during the second quarter of 2008. Mine production of palladium increased to 106,000 oz during the quarter, up from 97,000 oz a year earlier, while mine production of platinum during the quarter increased to 32,000 oz from 29,000 oz.
---
As featured in Womp 2009 Vol 07 - www.womp-int.com