New Drill Rigs for Underground and Surface Exploration
---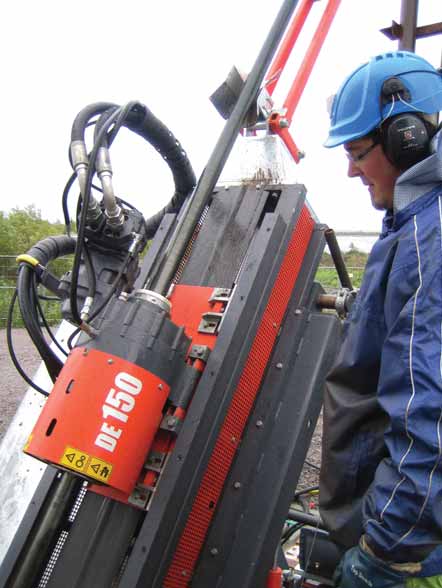 The recently introduced DE150 is Sandvik's most powerful exploration rig for underground exploration. According to the company, a surface version of the rig is under development and will be ready for market in the fourth quarter of 2009. Both units share many of the proven components used by other drill rigs in the DE100 series. In underground applications the DE150 is powered by a 110-kW (150-hp) electric power unit giving a maximum working pressure of 250 bar (3,645 psi) and oil flow of 300 l/min (79 gal/min). For surface application the DE150 will be powered by a diesel engine. The hydraulic feed cylinder has a push and pull capacity of 15 mt (147 kN), exceptional in relation to the weight, says Sandvik. Depth capacity is up to 2,000 m (with NQ rods).

The drill unit features a stiff and torsion resistant steel profile feed boom and a direct coupled feed cylinder with a feed length of 1,700 mm and maximum feed speed of 0.63 m/s. The feed boom is mounted on a frame with the tilt cylinder and mechanical supports. The mounting frame has been specifically designed for quick and easy set-up when fan drilling, with a full range of adjustment from vertical down to vertical up. The Sandvik DE150 is also available in steel for environments requiring explosion proof drill units.

Sandvik's DE150 torque control enables optimal balancing of torque and rotation speed. The control panel is a pilot-operated hydraulic system which gives the operator central control of all drilling operations including flush pumps, wireline hoist and boom tilt. The system also controls hydraulic system pressure, feeding force, hold back pressure, water pressure and water flow.
---
As featured in Womp 09 Vol 03 - www.womp-int.com