Bucyrus Expands Training Resources
---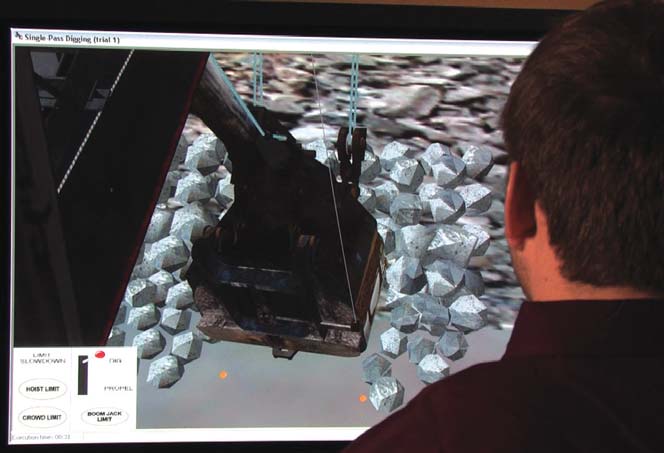 Bucyrus is now offering for purchase its VAST (Value Added Simulation Training) PC-based shovel training simulator system.

Bucyrus International, the Milwaukee, Wisconsin, USA-based manufacturer of mining shovels, draglines and rotary drills, recently announced that it is introducing several new training products and services in 2009. These include:

Simulator Training–Now available for purchase, the company's VAST (Value Added Simulation Training) product is designed to train operators in the safe and efficient operation of a Bucyrus shovel. A PC-based shovel simulator, VAST is intended to reduce training costs, increase productivity and improve training effectiveness. A short video is available for viewing on the Bucyrus Web site at www.bucyrus.com.

Computer-Based Training Modules (CBT)–A series of CBTs are currently under development for the company's model 495 shovel. Modules contain a series of lessons that begin with the basics and then advanc to more complex information. They are narrated and provide periodic knowledge checks and examinations throughout.

Learning Management System (LMS)–Bucyrus is implementing a LMS to efficiently deliver CBTs to its customers via the web. The LMS is a delivery tool that captures student data and test scores.

Regional Training–Plans are under way for classes to be offered regionally in the United States and Canada, as well as at the company's South Milwaukee Technical Training Center. Course topics vary and can be customized to suit customer need.

The training center, according to the company, will be ready during the third quarter of 2009 and will consist of two general training rooms and one electrical training room. The electrical room will be outfitted with a variety of simulators that can be used for training purposes as well as for diagnosing and troubleshooting problems on both AC and DC machines.

In-Field Training–Bucyrus also said it is improving its support for operator, mechanical and electrical training through the expansion of resources available to customers. These resources include additional instructors and standardized electronic training presentations.
---
As featured in Womp 09 Vol 03 - www.womp-int.com