Underground Electric Haulage Attracts Fresh Interest
---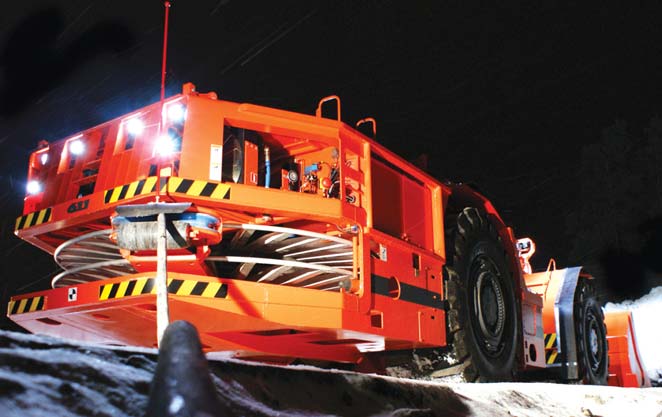 Recent orders for fully electric-drive underground haulage vehicles—including delivery of six Kiruna Electric
Trucks from GIA Industri to North American customers in 2009—may indicate a rising interest in the technology.
Sandvik, which offers a full range of electric-powered LHDs including the large LH625E model shown here, also
has received recent orders.

Those who see hybrid and full electric drive systems for mine haulage as the way forward may be encouraged by new orders received by GIA Industri for the two models in the Kiruna Electric Truck range. Six trucks are to be delivered during 2009 to customers in North America. And, orders for electric-powered LHDs are also increasing, according to Sandvik.

The Kiruna Electric Truck system is the result of a joint venture initiated in 1981 by the Swedish companies LKAB, Kiruna Truck and ASEA (now ABB) to develop an inclined ore haulage system primarily for underground mining. The system could be installed either in a new mine instead of shaft hoisting or in an existing mine with shaft hoisting to haul ore up a ramp to the shaft skip-loading station from new mining areas below the base of the hoisting shaft. The first model was the 50-mt-payload K1050E and the first sale was in 1988 to Zinkgruvan. By 1995, when Kiruna Truck and ABB introduced the 35-mt-payload K635E, 16 trucks were in operation at mines in Sweden (Zinkgruvan, Kristineberg), Canada (Hope Brook, Kidd Creek) and Australia (Mount Isa). At this time, two more K1050E vehicles for Inco's Mc- Creedy East project, and one for the Creighton mine were under construction for delivery to Sudbury, Ontario, in 1996.

Although Kiruna Truck and, especially, their larger electrical system partner ABB, took this opportunity to introduce the technology to a number of potential customers at Zinkgruvan and the factories, it is probably fair to say that the immediate response was underwhelming. On the other hand, inclined haulage using diesel-powered trucks from Atlas Copco, Caterpillar and Sandvik became increasingly popular, notably in Australia. In 1997, a 35-mt truck system went to a Chinese gold mine.

In 1999, GIA Industri acquired Kiruna Truck and, continuing the alliance with ABB, has since made technical improvements to the truck design that increase flexibility and meet current standards. The newest vehicles have Tier 3-compliant diesel engines for operating off the trolley line instead of the previous very heavy battery. According to GIA Industri, Kiruna Electric trucks are about twice as fast as diesel units on a 15% incline so that for a given haul route fewer units will be required. Noise levels are significantly lower than those of equivalent diesel vehicles and exhaust emissions are minimal in normal operation so that less ventilation is required.

Perceptions about the support required and available may have predisposed mine operators to favor diesel trucks over the Kiruna Electric system, but GIA Industri and ABB say they offer a totally committed project development and supply package, including a transportation study; calculation of the optimal ramp specification; preparation of the necessary layouts for loading, dumping, turning and passing; preparation of documents needed for approval by the local mining authorities involved in the project; design, delivery and installation of the trolley line and power supply; installation and commissioning of the whole system; training of operators and maintenance staff; provision of inspection, maintenance and reliability services plus spare parts inventory and management services and systems and worldwide support.

The truck has remained a niche product but deliveries were made to a new customer in China and to Aguas Tenidas in Spain during 2000, plus four more 50 mt units to McCreedy East in 2001, 2004 and 2005. In Kazakhstan, Kazzinc installed the system at the Maleevsky mine in 2006. Recent trends in energy costs have led a number of mining companies to evaluate or re-evaluate the technology. As a result, Vale Inco in Canada has ordered four K1050ED trucks (the D indicating the 70 kw diesel engine power off-trolley) and the Stillwater PGM mine in Montana, USA, has asked for two K635ED trucks. All of these were ordered for 2009 and 2010 delivery. Of Vale Inco's four machines, two are for a new Sudbury area user, the Coleman mine, and two are for Creighton.

Just as GIA Industri has seen increasing interest in the electric truck so Sandvik is experiencing an upturn in demand for the electric powered versions of its LHD range, which covers the payload range 1,000– 25,000 kg (2,200–55,100 lb). Customers range from an apatite mine in Arctic Russia to Codelco in Chile. Like the diesel-powered LHD range, the electric loaders line is being upgraded as quickly as production engineering and support development will allow. Sandvik said that recent models have demonstrated greater electrical reliability in operation than some of their predecessors. The level of interest in automated operation has also been sufficient that Sandvik beefed up the Automine team.
---
As featured in Womp 09 Vol 03 - www.womp-int.com