Fertile Ground for Canadian Potash Producers
With an area the size of Belgium covered by potash permits and decades-worth of accessible resources yet untouched, Saskatchewan's potash miners are seeding their future with billions of dollars in project investments
By Russell A. Carter, Managing Editor
---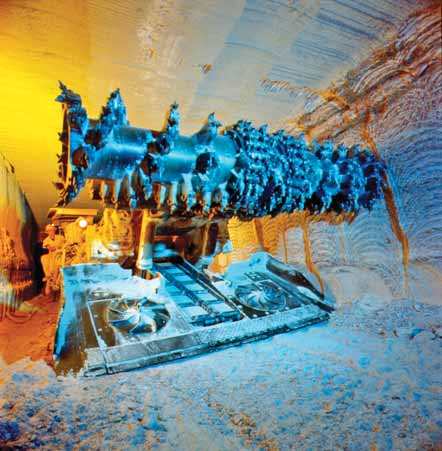 Over 50% of current global estimated potash reserves are located in the Canadian province of Saskatchewan,
where in 10 mines operated by three companies extracted ore and processed it into various productsworth
almost $2 billion in 2008. Shown here is a continuous mining machine at work in Agrium Inc.'s Vanscoy mine.
(Photo courtesy of Agrium, Inc.)

Potash, one of those behind-the-scenes commodities somewhat lacking in glamour but essential for maintaining agricultural soil fertility and used in numerous industrial processes and products, moved visibly into the foreground last year as global demand for fertilizer components blossomed into an "NPK" boom driven by improved farming methods worldwide, along with a short-lived ethanol market surge in the U.S.

Potash is also one of the few mineral commodities able to maintain the highwire balancing act that characterized the lofty prices levels of almost every mined material during the recent mining boom, even after a global recession began shaking the wire violently in 2008. Demand for potash fell significantly in late 2008 and by mid-March 2009, the Fertilizer Institute reported that potash inventories at North American producers were 42% higher than the previous five-year average, while North American potash shipments in the month of February were down 80% from the same month period a year earlier. Nevertheless, a concerted effort by producers to exercise supply discipline has kept spot market and contract prices steady at late-2008 levels— at least until Belarusian Potash Co. (BPC), the export organization owned by and representing Russian potash miner Uralkali and Belarusian producer Belaruskali, announced in early March 2009 that it would cut by 25% the price it charges for granular potash delivered to Brazilian importers, for a period that will extend at least to May of this year.

BPC is one of two major potash export organizations, the other being Canpotex which represents and is jointly owned by Calgary, Alberta-based Agrium Inc.; a subsidiary of Minnesota-based Mosaic Co.; and Potash Corp. of Saskatchewan (PotashCorp). Canpotex is the world's largest potash exporter.

It will be interesting to see whether BPC's concession carries over into upcoming price negotiations between Canpotex and its major customers, China and India, which both buy on an agreedprice rather than spot price basis.

Production Cuts Commence, but Expansions Continue
Significant potash production occurs in only 12 countries. Half of global reserves are located in Saskatchewan, and Canada, Russia and Belarus together account for two-thirds of world production and more than 80% of reserves. PotashCorp is the largest global producer, accounting for 22% of world potassium chloride (KCI) capacity and 17% of production. World production declined to 52 million mt KCI in 2008 due to strikes at three PotashCorp mines and announced capacity curtailments in the former Soviet Union and Germany.

After the strikes at PotashCorp significantly reduced production late in 2008, the company initially decided to shut down an additional 2 million mt of production in the first quarter of 2009 due to an anticipated drop in demand. At the time of this move, announced world potash curtailments from August 2008 through May 2009 totaled more than 8 million mt, which equated to around 15% of annual global production.

In mid-March 2009, PotashCorp announced further plans to cut 2009 potash production by an additional 1.5 million mt, bringing its total expected curtailments of operational capacity to at least 3.5 million mt.

In mid-July 2008, prior to the strike and the subsequent curtailments, PotashCorp had completed a C$410 million project at its Lanigan operation, and concurrently announced ambitious expansion projects at several of its existing operations, along with plans for a new mine.

The Lanigan expansion refurbished a mill that had been idle since the mid- 1980s. New mill structures and equipment, along with upgraded ore hoisting and other underground equipment, was installed to raise operational capacity by 1.5 million mt.

PotashCorp also announced expansion plans for its existing Allan, Cory and Rocanville operations which, when added to projects currently under way and those completed in the past few years, brought the company's total investment in its Saskatchewan operations to C$5.1 billion. PotashCorp is also spending C$1.7 billion on construction of a new mine in New Brunswick (see sidebar). These projects are expected to raise the company's total potash operational capacity to 18 million mt/y by the end of 2012.

PotashCorp's involvement in the world market isn't confined to its Canadian operations. As of mid-2008 it had investments, valued at $11.7 billion, in the form of various stakes or roles in non- Canadian potash operations including Arab Potash Co. (APC) in Jordan, where it appoints the top four management positions; at SQM in Chile, a producer of specialty potash products, lithium and iodine; logistical assistance at Israel Chemicals Ltd. (ICL), which sells potash to India and other Asian markets; and an investment in Sinofert, China's primary potash distributor.

The buoyant market conditions in effect during much of 2007–2008 prompted other expansions in the potash sector. In order to alleviate shipping-port overload, Canpotex in late June 2008 announced plans for two Canadian westcoast terminal projects that will add approximately 11 million mt of annual potash shipping capacity to its current 12 million mt by the end of 2012. The projects include a new greenfield terminal on Ridley Island near Prince Rupert, British Columbia, and a brownfield terminal expansion adjacent to Neptune Bulk Terminals (Canada) Ltd. in North Vancouver, British Columbia. The combined cost of these projects is expected to be more than C$500 million.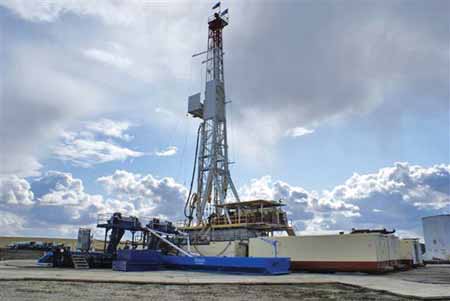 Test well drilling at Potash One's Legacy solution mining project. If the company's plans proceed on schedule,
the project will be Saskatchewan's first new potash mine since 1982 when it starts up in late 2013.
(Photo courtesy of Potash One Inc.)

Hard to Get in…
and Expensive
Entry into the potash business is difficult because quality deposits are rare, deep and increasingly remote; mining expertise in the field is somewhat limited; and the cost of a new mine is substantial. For example, a new Saskatchewan conventional mine would require an estimated upfront capital investment of C$2.8 billion, excluding roads, rail lines, utilities, port facilities and other infrastructure costs outside the plant gate. It would take a minimum seven years to generate positive cash flow from a newly built conventional mine.

On the other hand, as one industry observer said to E&MJ: "Some of the majors are currently mining potash at a cost of roughly $100 per ton and selling it around $800 per ton. What other commodity offers that kind of margin?"

However, it appears that none of the potential risk factors have stopped other interested parties from moving forward with their own potash projects, particularly those involving solution mining, for which the time frame to production and overall cost are significantly less than for conventional mines. Overall, conventional mining currently accounts for roughly 80% of global production; solution mining provides the remaining 20%.

The commodity's financial magnetism, along with consensus predictions for steady future growth in the market— conservatively pegged at 3%–4% per year—has attracted investors and propelled an exploration boom in Saskatchewan, where government agencies reportedly did not issue a single potash exploration permit in 15 years prior to 2004. Since then, land under lease has grown from 250,000 to 3 million hectares, about the size of Belgium.

There are currently 10 operating mines in the province, eight of which are underground extraction mines, one that is actually a flooded conventional mine that is presently functioning as a solution mine, and one that is a dedicated solution mine. It is estimated that there are some 8 billion st of recoverable KCl reserves (5 billion st K2O equivalent) using conventional underground techniques, and approximately 110 billion st of recoverable KCl reserves (65 billion st K2O equivalent) amenable to solution mining. [Note: In the potash industry, the percentage of K2O equivalent represents the amount of potassium if it were in the form of potassium oxide. The term "KCl product" refers to the fertilizer material (crystalline or granular) that is shipped from a mine as a sales product and is made by the concentration of sylvite mineral from the ore through the removal of waste halite and water insolubles. KCl product is at least 95% KCl for Standard grade and at least 60% K2O equivalent.]

The most advanced greenfield project under way in the province is Vancouverbased Potash One Inc.'s Legacy solution mine, located about 80 km northwest of Regina, Saskatchewan, and adjacent to Mosaic's Belle Plaine operation, the world's largest potash solution mine. If the company's permitting, financing and construction timetable proceeds according to plan, the Legacy mine could enter production in the third quarter of 2013—the first new mine in the province since 1982.

The 92,000-hectare Legacy property contains a reported resource of approximately 400 million mt. Recent exploration drilling has produced consistent results showing a 35-m-thick potash zone containing 28% KCl. This resource, according to Potash One President and CEO Paul Matysek, is sufficient to support three to four, 40-year-long solution mining operations.

Even with the project's favorable location and geology and an experienced management team, Matysek concedes that obtaining financing is not assured in the current financial environment. There are risks, notably the threat of massive, high-pressure water inflows encountered in the area; one large nearby mine reportedly spends $100 million annually to manage this problem. He is looking at two options for mine development that hinge on the type of financing achievable: either an 800,000-mt/y operation that could initially be mostly selffinanced by the company; or if Potash One is able to attract a strategic partner willing to provide major funding in return for a percentage interest in the project, a 2.4-million-mt/y operation.

Ideally, said Matysek, "We're looking for an end user—probably in China or India—that would make a sizable direct equity investment. In return, we would be willing to arrange an offtake agreement with them at a price somewhat lower than the Canpotex price."

On a much larger scale, BHP Billiton, the world's largest mining company, is expected to spend up to $40 million on a feasibility study for what could be the world's largest potash mine. In 2006, the company formed a joint venture with Calgary-based Anglo Potash to evaluate land holdings in Saskatchewan and potentially develop one or more mines. In July 2008, following a buyout of Anglo Potash, Billiton increased its ownership of the project, encompassing about 1.8 million acres and containing an estimated 1.5 billion mt tons of measured, indicated and inferred potash resources, from 75% to 100%. The mine would be located near Jansen, about 140 km east of Saskatoon. It would produce 8 million mt/y, making it the world's largest. A project proposal was filed with the provincial government in November 2008, and if the process goes smoothly construction could begin in the summer of 2011 with initial production beginning in 2015, reaching full production in 2026 and extending over a 50-year mine life.

The mine would employ conventional long-room-and-pillar retreat mining methods and at peak production operate up to 26 borer-type mining machines, although other equipment options are also being considered. For the Jansen project, BHP Billiton intends to construct a main production shaft capable of hoisting 22.3 million mt/y of ore— twice the capacity of any currently operating production shaft in the Canadian potash industry. Because of ore thickness and temperature conditions at the proposed mine site, solution mining is not considered by BHP Billiton to be a viable option.

Generally, potash mines occur in the depth range between 850 and 1,100 m, and these depth cut-offs were used for estimating the project resource. The upper limit of this range is usually the minimum depth where all water protection layers above the mine horizon are still present. The lower cut-off denotes the limit in which mining rooms can be kept open and operational for the duration of mining before stress causes extreme closure rates. More maintenance of corridors and travel ways is required as the mine approaches the 1,100-m depth.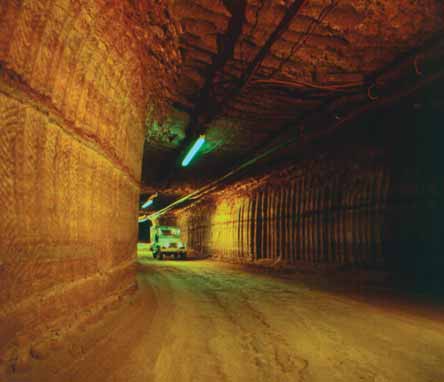 In addition to new mine projects being advanced by both major and mid-level companies, all producers currently
operating in Saskatchewan—Agrium, Mosaic and PotashCorp—are planning major expansions at their existing
operations. (Photo courtesy of Agrium Inc.)

Another company planning a conventional underground operation is Athabasca Potash, which in early March 2009 reported that it had retained a contractor for the shaft, hoist and headframe sections of a pre-feasibility study being undertaken on the company's Burr project. The Burr property is located 107 km east of Saskatoon, Saskatchewan, adjacent to PotashCorp's Lanigan mine. To date, Athabasca has completed 2-D and 3-D seismic surveys and has reported a resource estimate of 241.2 million mt of indicated resource at a grade of 23.3% K20, on the Lower Patience Lake target member, for mining. Environmental baseline and tailings management assessment studies have been initiated in preparation for the completion of an environmental impact study and permitting report.

The Burr project shaft contract went to Thyssen Mining, which has been an active participant in the potash sector, having completed nine of the 14 operating potash shafts in Saskatchewan. Thyssen is currently completing four shaft-sinking projects in three different countries, including a new service shaft at PotashCorp's Rocanville mine in Saskatchewan and a potash production shaft in Volgograd, Russia.

The Rocanville shaft project is being carried out by Associated Mining Construction Inc. (AMC), a joint venture between Thyssen Mining and JS Redpath. The job involves two shafts: the sinking of a new service shaft and conversion of the existing Rocanville service shaft to a production hoisting facility. The drilling of freeze holes to start the new service shaft was scheduled for January 2009 with construction of the surface infrastructure and shaft sinking to follow.

At Agrium's Vanscoy potash mine north of Saskatoon, Thyssen has been involved in a variety of projects dating back to October 2007. One of the tasks has involved maintenance activities in the mine's No.1 and No. 2 shafts, involving installation of more than 5,000 tubbing bolts in the No. 2 shaft, along with installation of new water lines and wash rings, shaft wall repair, and changeover of skips at the No. 1 shaft from an older scroll-type dumping system to pneumatic dumping.

Brownfield is Cheaper
In April 2008, Mosaic announced that it would expand its three potash operations in Saskatchewan by 5 million mt over the next 12 years at a cost of US$3.15 billion. Overall, the company's expansion plans are designed to raise its production capacity to 15.5 million mt/y by 2020 from its current 10.4 million mt/y. In addition, another 1.3 million mt of production at Mosaic's Esterhazy potash mine will revert to Mosaic at the conclusion of a third-party agreement with PotashCorp in the next few years.

A 1.8-million-mt, $1.7-billion expansion of Esterhazy's capacity will occur in two stages: a 900,000-mt expansion to be completed by 2012 at a cost of $700 million; and a second identical increase of 900,000-mt, costing $1 billion and scheduled for completion by 2020.

Phased expansion at Belle Plaine will increase capacity by 2 million mt at a cost of $920 million, including a 300,000-mt expansion to be completed by 2010, another 400,000-mt expansion costing $100 milllion, to be completed by 2012, and a 1.5-million-mt expansion for $800 million to be completed during the period 2014–2017.

At Mosaic's Colonsay operation, expansion will grow capacity by 1.3 million mt at a cost of $530 million, including a 1-million-mt, $500 million increase to be completed by 2016.

In an interview conducted in 2008, Norm Beug, senior vice president of potash operations for Mosaic, told the Regina Leader-Post newspaper that expanding existing potash mines and mills, while still costing billions of dollars, is far more cost-efficient than starting greenfield projects from scratch. "We think we're [at] about 45% of the current greenfield cost. More importantly, there's a lot less risk and you bring the tonnage on a lot quicker."
---
As featured in Womp 2009 Vol 03 - www.womp-int.com