U.K. Mining Invests, Suppliers Profit
---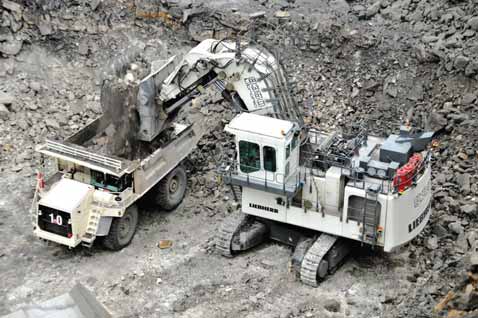 One of the first Liebherr R9350 hydraulic excavators at work at Broken Cross OCCS in Scotland.
Scottish Coal Co. has ordered four of the excavators—two in front shovel and two in backhoe configurations.

In the midst of a major economic crisis the UK has been marking the 25th anniversary of the labor dispute that played a significant part in the decline of the coal mining industry. Somewhat ironically, while the financial sector situation has been worsening equipment suppliers have been reporting a number of considerable purchases by British coal mining companies. Some involve Scottish opencast coal sites (OCCS), others underground operations—including the first English deep coal mine reopened for many a year—by PowerFuels [CHK] at Hatfield Colliery. Beneficiaries include Liebherr, Terex and Sandvik.

Broken Cross
In December 2008, Liebherr–Great Britain delivered the first two of four R9350 Litronic hydraulic excavators for use at the Broken Cross OCCS in Lanarkshire, Scotland. The Scottish Coal Co. Ltd., part of the Scottish Resources Group, will use two of these 300-mtclass excavators in the backhoe version and two as face shovels. They will be the main excavation and loading machines at Broken Cross. One of each started work by year end and the others were delivered early in 2009.

The backhoe configuration requested has a 9.3-m gooseneck boom, a 4.2-m stick and a 17-m3-capacity bucket. The face shovels have the same size bucket and 4.2-m stick but with a 6.75-m boom. The bucket capacity is lower than the standard size for this excavator to suit the application and the truck fleet. Nevertheless, so far the R9350s have consistently filled the mine's Caterpillar 777 and Terex TR100 100-mt-capacity dump trucks in three passes and in under one minute.

The R9350 features a V12 turbocharged Cummins QSK45 engine developing 1,120 kW at 1,800 rpm with hydraulic motors and planetary reduction gears manufactured by Liebherr. Travel speeds are up to 3.1 km/h and slewing speed up to 3.7 rpm. Automatic central lubrication is standard. Scottish Coal specified a number of additional safety features including supplementary xenon lights, fully automatic powder and foam fire-fighting equipment, three CCTV camera/ monitor systems for greater visibility, and additional mirrors. The backhoe has a maximum reach of 16.3 m at ground level, dump height is 10.2 m and optimum digging depth is 9.5 m. Digging and breakout forces are 880 kN and 1,020 kN respectively. Maximum reach with the face shovel at ground level is 13.75 m, maximum dump height is 11.2 m and crowd length is 5.2 m. Optimum crowd force is 1,300 kN (1,040 kN at ground level) and break out force is 1,060 kN.
Terex TR100 haul trucks lined up at Scottish Coal's Pennyvenie OCCS. The 16-unit fleet is teamed with
Terex RH120C and RH120E hydraulic excavators.

Liebherr–Great Britain is providing on-site after sales support and has a large office and a warehouse containing roughly £2.5 millions worth of spares on site, plus a fleet of support vehicles: flatbed truck with crane, 4x4 service vehicle, access platform and a Liebherr telehandler.

Pennyvenie
The dump truck fleet at Broken Cross includes 10 Terex TR100 rigid haulers that were delivered late in 2008, with another six units to be delivered over a six-month period in 2009. Terex had already delivered 16 TR100s to Scottish Coal last year, these vehicles being for use at the firm's Pennyvenie OCCS in Ayrshire, where they are teamed with Terex RH120C and RH120E hydraulic excavators. All this equipment belongs to another Scottish Resources Group subsidiary, Castlebridge Plant, which is believed to be one of the largest heavy earthmoving fleets in Europe. Scottish Coal itself employs nearly 700 people.

Hatfield, Kellingley,Thoresby
The latest contribution to coal production in England being made by Richard Budge, formerly head of the main company formed through the privatization of British Coal, is as CEO of Powerfuel plc. Formed with the help of foreign backers in 2006, this company took over the project to reopen the Hatfield Colliery at Stainforth, South Yorkshire, which Budge had started in 2001 with Coalpower but had not been able to complete.

The mine, which started serious production in 1921, reached peak output in 1989 but ceased production in 1994 when the seam it worked was nearly depleted. Hatfield Coal Co., formed through a management buyout, took over but had to close the mine in 2001. Coalpower and then Powerfuel worked to access the 3.5-m-thick Barnsley seam 70 m below the existing workings, sinking two shafts and developing the infrastructure for longwall mining at least 2 million mt/y thermal coal for sale to local power stations.

Powerfuel Mining restarted production in April 2007, providing work for former miners and in several cases their sons as well. More recently, Powerfuel Power has been planning a 900-MW integrated gasification combined cycle coal fired power plant close to the mine. Powerfuel plc also has a partnership with a property development and civil engineering company to build a business park and a marina on land adjacent to the mine site.

The main equipment for two longwall faces was supplied by Joy Mining Machinery U.K. Ltd. factories in Britain and roadway driving machines by Joy (continuous miner) and by Sandvik (Bolter Miner) from the Zeltweg facility in Austria. Sandvik, which is well-established in the British coal mining market, has a coal-oriented unit in nearby Doncaster previously owned by Hydramatic as well as the former Eimco premises in Gateshead. In the past year Sandvik has delivered a fourth Bolter Miner type MB670 to UK Coal Mining's Thoresby Colliery at Edwinstowe in Nottinghamshire and another machine to the same company's Kellingley Colliery at Knottingley, West Yorkshire.
---
As featured in Womp 2009 Vol 03 - www.womp-int.com