Positive Feasibility Study on Citadel's Saudi Arabian Copper-Gold Project
---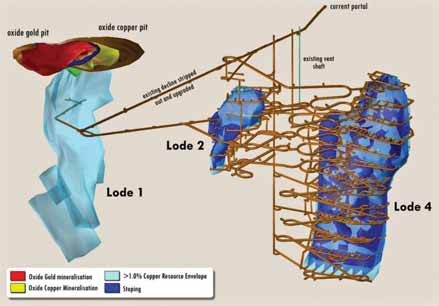 Citadel Resources will employ conventional open stoping methods to mine the Jabal Sayid deposit's several
"lode" areas. Underground mining will be preceded by open-pit extraction of an on oxide gold cap.

Citadel Resource Group announced in early March the results of a feasibility study for the Jabal Sayid copper-gold project in Saudi Arabia. The project is held by Bariq Mining Ltd., a Saudi Arabian joint venture company of which Citadel holds 50%.

The study, according to Citadel, confirms the economic viability of the project, based on production of ore from an underground mine, and treatment in a conventional crush/grind/float concentrator circuit. Early production and revenue will be derived from open-cut mining of an oxide gold cap and treatment of the ore in a conventional heap leach plant. However, the project has been designed to eventually mine 3 million mt/y of ore from other mineralized areas by large-scale underground open stoping methods, using cemented aggregate backfill in primary stopes. The ore will be trucked to surface, and treated to produce copper concentrate containing 60,000 mt/y of copper with precious metal credits. This will be trucked to the Red Sea coast for export to European, Indian or East Asian smelters.

The capital cost of the project has been estimated at $249.5 million, with an additional $13 million required to advance the oxide gold cap heap leach plant into early production. Cash costs for copper production will be $0.94/lb (after credits), and gold cash costs will be approximately $330/oz gold produced. According to the study, the project is economically feasible at current copper prices, and the project will now continue through the definitive feasibility study and into permitting, financing, construction and development. The initial gold heap leach component of the project will be fast-tracked, and will also be designed to accept supplementary ores from Citadel's other gold projects in the region. First gold production is scheduled for the first quarter of 2010, and first copper production in 2011.

The Jabal Sayid resource is mostly pyrite-chalcopyrite stockwork mineralization hosted in rhyodactic volcanics. Since Citadel commenced work in 2006 through its subsidiary company Vertex it has completed 27,483 m of both diamond core and reverse circulation drilling (as of end September 2008). The existing decline has been dewatered and refurbished. Early in 2009 a program of underground drilling commenced to provide additional infill geological data.

The mine plan involves the mining of 32 million mt of material. According to the company, sub-level caving was initially considered as a possible mining method. Further study of this option highlighted that the high levels of dilution and inability to selectively mine higher grade ore blocks would make a mine structured using this method less able to respond to volatile copper prices. Further, lower grade blocks outside the mine plan would become inaccessible, preventing potential recovery later in the mine life. It is advantageous to have a more flexible mine schedule enabling higher grade ore blocks to be accessed initially without impacting on long term mine integrity, whilst preserving the ability to salvage lower grade blocks.

Up to 3 million mt/y of ore will be processed in the concentrator, which will consist of crushing, followed by an SABC circuit (SAG mill, Ball mill and scats crushing), rougher flotation, regrind of concentrate and three stage cleaning prior to thickening and filtering of the concentrate. The concentrator will produce approximately 60,000 mt/y of copper in concentrate. In several years when run-of-mine grade is above average, the copper production is planned to exceed 70,000 mt/y.

Testwork at run of mine head grades of 2.26% copper has confirmed 94% to 96% copper recovery, producing a 25% to 27% copper concentrate. Tailings will be produced as a dry filtercake, and transported to a lined tailings storage facility. Dry tailings storage was chosen to reduce water consumption. Approximately one third of the tailings produced will be deslimed and returned underground as a component in the cemented aggregate fill for primary stopes.

A gold heap leach facility is to be implemented as part of this project. Ore from an oxide gold cap will be mined, crushed and stacked on an impervious synthetic liner. Following leaching, a gold/silver doré will be produced in a Merrill Crowe plant. Over a two-year period, 1.3 million mt of ore will be processed to produce approximately 50,000 oz of gold. The heap leach facility will be sized to enable additional ore from other nearby Citadel deposits (Lahuf and Shayban) to also be treated to provide supplementary gold production.
---
As featured in Womp 2009 Vol 03 - www.womp-int.com