Minmetals Offers A$2.6 Billion in Cash for Struggling OZ Minerals
---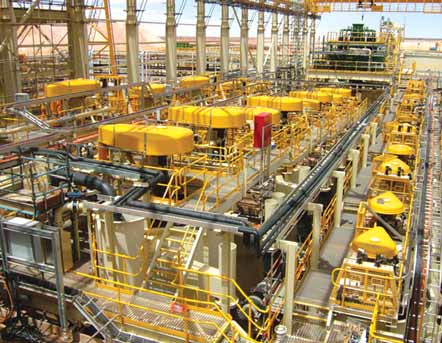 OZ Minerals is currently commissioning its Prominent Hill operation in South Australia. This photo of the
flotation section in the concentrator is from January 2009..

On February 16, 2009, four days after the Rio Tinto-Chinalco agreement (See page 6), Australian mining company OZ Minerals and China Minmetals Non-ferrous Metals Co. announced an agreement whereby Minmetals would acquire OZ Minerals outright for A$2.6 billion in cash. The offer price represented a premium of 50% to the last traded price (A$0.55/share) of OZ Minerals prior to suspension of trading of its shares in late November 2008. Minmetals also agreed to repay all of OZ Mineral's outstanding debt, totaling about A$1.1 billion, upon closure of the transaction, bringing its total cost for the deal to A$3.7 billion.

OZ Minerals would continue to be headquartered in Australia, Minmetals said, and all OZ Minerals properties would remain in operation. Commissioning is continuing at the company's Prominent Hill copper-gold project in South Australia, and production during 2009 is now expected to total 85,000 to 100,000 mt of copper and 60,000 to 70,000 oz of gold contained in concentrates.

OZ Minerals is also proceeding with its previously announced asset sale program for its Martabe gold-silver development project in Indonesia and its Golden Grove base and precious metals mine in Western Australia. Minmetals' price for its purchase of OZ Minerals will increase if the aggregate net sale proceeds received for these properties exceeds A$425 million.

The OZ Minerals' board unanimously supported the Minmetals offer, subject to receipt of no superior competing proposal. Closure of the transaction requires regulatory approvals in Australia, China and Laos, where OZ Minerals has its Sepon gold and copper operation, as well as from OZ Minerals' bankers. The companies suggested that these approvals might be received by April 2009, to be followed by a vote by OZ Minerals shareholders in May and closure of the transaction in late May.
---
As featured in Womp 2009 Vol 02 - www.womp-int.com