Chinalco Deal Offers Debt Relief to Rio Tinto
---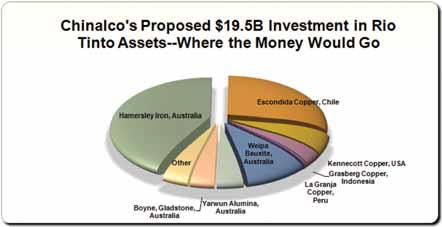 Rio Tinto and Aluminium Corp. of China (Chinalco) on February 12 announced a proposed strategic partnership that would immediately provide Rio Tinto with $19.5 billion in cash to relieve its debt-ridden balance sheet while giving Chinalco substantial interests, valued at $12.3 billion, in nine Rio Tinto iron ore, copper and aluminum operations, as well as $7.2 billion in convertible bonds that provide Chinalco with the opportunity to increase its equity interest in Rio Tinto to 18%. Chinalco currently holds a 9.3% interest in Rio Tinto.

The transaction is subject to approval by Rio Tinto shareholders and government and/or securities regulators in China, Australia, the United Kingdom, the United States and Canada. The Rio Tinto shareholder vote will be held in May. Press reports immediately following announcement of the transaction indicated that some Rio Tinto shareholders strongly opposed the transaction. The Australian government was expected to look closely at the transaction with regard to whether it is in Australia's national interest.

Chinalco's investments in joint ventures and Rio Tinto development projects would break down as follows:
• Hamersley Iron, Australia: $5.15 billion for 15% of Rio Tinto's 100% interest;
• Escondida Copper, Chile: $3.388 billion for 49.75% of Rio Tinto's 30% interest;
• Kennecott Copper, United States: $700 million for 25% of Rio Tinto's 100% interest;
• Grasberg Copper, Indonesia: $400 million for 30% of Rio Tinto's 40% interest;
• La Granja copper exploration project, Peru: $50 million for 30% of Rio Tinto's 100% interest;
• Weipa Bauxite, Australia: $1.2 billion for 30% of Rio Tinto's 100% interest;
• Yarwun Alumina, Australia: $500 million for 50% of Rio Tinto's 100% interest;
• Plus, $450 million combined for 49% of Rio Tinto's 59.4% interest in the Boyne aluminum smelters and 49% of Rio Tinto's 42.1% interest in the Gladstone power station in Australia; and $500 million for a general development fund.

Rio Tinto retains operational control of the joint-venture assets, with clear governance arrangements and continued commercial marketing of joint-venture product. Rio Tinto will also enter into a jointventure with Chinalco for exploration in China, and according to the company, also anticipates that the Chinalco relationship will facilitate access for Rio Tinto funding for project development from Chinese financial institutions.

Chinalco will be entitled to nominate two new non-executive board members (one independent under applicable corporate governance criteria) to add to the 15 current board members of Rio Tinto. Independent non-executive directors will continue to comprise a majority of the Rio Tinto boards.
---
As featured in Womp 2009 Vol 02 - www.womp-int.com