Atlas Copco Upgrades Drill Models, Acquires Indonesian Service Companies
---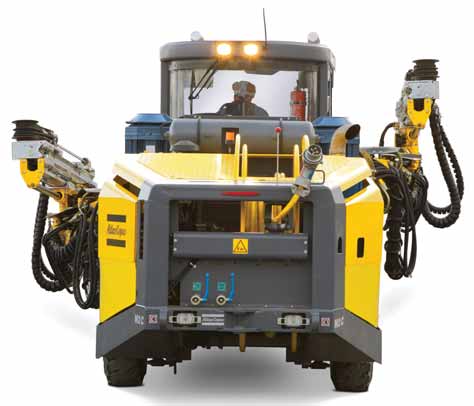 Atlas Copco is in the process of upgrading many of its face drilling and production drilling rigs to include new,
lower-emission engines in accordance with increasingly stringent North American and European standards.

Atlas Copco recently reported that it is upgrading many of its drill rigs and other equipment to include a range of improvements for its customers and the environment, such as equipping its underground equipment with new diesel engines to meet the latest emissions-control requirements in Europe (Stage IIIA) and North America (Tier 3). The company said it has redesigned and modified many of its face drilling and production drilling rigs as well as bolting and scaling rigs—incorporating changes that it terms "clearly positive" for owners and operators.

Apart from the improved environmental impact provided by the new engines, the design changes offer better hydraulic and automatic systems, increased safety and ergonomics, easier servicing and better reliability, according to the company.

Peter Öberg, upgrade project manager at Atlas Copco's manufacturing facility in Örebro, Sweden, said: "In making design changes to accommodate the new, lower emission engines we have been able to use the opportunity to redesign and modify a great many details that give improvements and benefit to the users.

"We have been able to increase the overall strength on several models which means that the rigs can carry heavier optional equipment. Due to new component layout and placement, serviceability and maintainability have been improved."

According to the company, most of the modifications have already been incorporated into its assembly system and by June 1 almost every model included in the upgrade program will be available with an engine upgrade.

Atlas Copco also announced that it recently acquired 100% ownership of PT Fluidcon Jaya, Indonesia, and its parent company Fluidcon Service, Singapore, to expand its business in the Indonesian mining sector. In 2007, the acquired companies had sales of approximately $11.3 million and employed 223 people.

Fluidcon supplies and installs fuel and oil filtration equipment, hydrocarbon management systems, customized onboard fire suppression solutions and automatic lubrication systems for mine operators throughout Indonesia. Fluidcon also provides aftermarket services such as customized hydraulic hose and fittings assembly and installation to support such equipment.

"The acquisition of Fluidcon will give Atlas Copco access to a wide footprint of mining customers to promote our products," said Björn Rosengren, president of Atlas Copco's Construction and Mining Technique business area. "Spread across the huge Indonesian archipelago, with dedicated service resources in eight strategically placed branches, this acquisition gives us a platform to more rapidly increase equipment sales into this vibrant market sector while also developing aftermarket presence, which is key for long term customer satisfaction."

The two acquired companies will be renamed Atlas Copco Fluidcon and will operate within the Atlas Copco Drilling Solutions division, which is part of the Construction and Mining Technique business area.
---
As featured in Womp 08 Vol 5 - www.womp-int.com