Mozambique Becomes a Major Coking Coal Exporter?
In addition to its potential role as a major international supplier of coking coal, Mozambique will also become a major source of power generation for southern Africa
By Antonio Ruffini, E&MJ South African Editor
---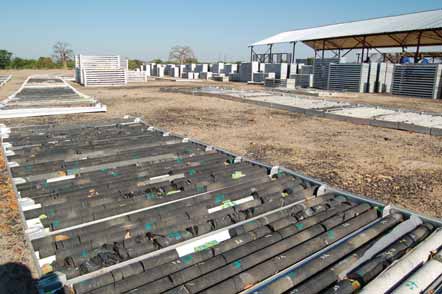 The answers lie in the core sheds at Riversdale's Benga coal project, targeted to begin production in 2010
with an ultimate capacity of 20 million mt/y.

Projects under way and planned in Mozambique's Zambezi Valley coal basin will turn that country into one of the world's major suppliers of seaborne coking coal. Located in the country's northeastern province of Tete, what is one of the world's largest undeveloped coking coal regions will also become a significant source of electricity generation for southern Africa.

The best known of the companies active in the Zambezi coal basin is Vale with its Moatize project, but there are others, such as Camec, Coal India Ltd. and Australian junior Riversdale Mining, all looking to develop large-scale coal projects.

The Zambezi Valley's rise to prominence stems from a setback suffered in Australia, which supplies 63% of the 136-million-mt/y seaborne coking coal market. There, government failed to expand infrastructure to meet anticipated global demand growth of 40 million mt/y over the next three years. And while Australia's Bowen Basin in Queensland, the world's largest producing coking coal field, has 3.6 billion mt of resources remaining, production costs are escalating. Companies such as BHP Billiton which were producing coking coal at about $60/mt now have to go further from the port and mine deeper. Correspondingly, costs have gone up to about $75/mt. This and supply constraints have seen a 200% rise in coking coal prices.

The other major seaborne coking coal producers are located in North America, which accounts for another 30% of supply to this market. The U.S. acts as a swing supplier, and neither it nor the high cost Canadian mines are geographically well placed to supply the Indian, Asian and Brazilian markets where most of the growth in demand is occuring. India and Brazil will account for about 49% of the global growth in demand for coking coal over the next three years, while the steady EU market is also better supplied from southern Africa than from Australia or North America.

Nor are other prospective major new coalfields better placed to supply such markets, or without their own infrastructure constraints. These include the Elga coalfield in Russia, located far from the coast, and the Mongolian coalfields that will mostly supply Chinese steel makers. The large Kalimantan coalfield in Indonesia has 500-km logistical pipelines and its location in the rainforest adds a layer of environmental sensitivity.

Coking coal recently traded at $300/mt in part due to flooding that occurred in the Bowen Basin, but in the longer term Riversdale Mining's CEO Michael O'Keeffe does not believe any new mines will be able to produce at $70–$75/mt. "Costs of production in Canada are above $100/mt and any new production will be more expensive than that. Due to such factors, taking into account a reasonable return on investment, we see the new floor at about $150/mt."

Compared with other virgin coalfields a degree of infrastructure already exists in the Zambezi Basin. "Rail infrastructure in the form of the Sena rail line to the Beira port, power in the form of the Cahora Basa hydroelectric scheme located in Tete Province, a workforce that knows mining and a sealed road—all these exist," O'Keeffe said.

Moatize is not only the most famous coal deposit in Mozambique because of Vale. It was an existing mine that suffered damage during Mozambique's long civil war and then, in 1994, was flooded by the Moatize River. Moatize holds about 2.4 billion mt of coal resources and Vale is looking to begin its first cut on this $1.2-billion project by the final quarter of 2009. It is talking with equipment suppliers, the likely plan being to use 240-mt trucks and excavators with 30-m3 shovels. The bankable feasibility study on Moatize was completed in 2006 and the Mozambican government approved Vale's mining contract in the middle of last year.

Moatize aims to produce coal to fuel a 1,500 MW power station by 2013 and export 12 million mt/y of coking coal. However, Moatize is not alone and Riversdale Mining has done a pre-feasibility study on a resource similar in scale to that of Moatize, on nearby license areas.

Riversdale, formed in 2004, has brought in skills from the world's largest coking coal exporting country, and is looking to piggyback on infrastructure that will be developed around the Moatize project.

However, O'Keeffe said that, if anything, Riversdale, unlike Vale which is looking at projects all around the world, plans to pursue the development of its Benga coking and thermal coal joint venture project more aggressively and in a shorter time frame. Its joint venture partner in the project, Tata Steel, is equally keen.

Tata Steel paid about $93 million to buy a 35% stake in the Benga project. Like other steel companies, it is responding to input cost inflation by looking to secure its own raw material supply chain. It only has 14% of its coking coal requirements locked in and as part of the deal will take 40% of the project's initially planned 6 million mt/y export volume. Should that output double Tata would maintain its 40% off-take ratio.

Riversdale holds 23 licenses in Tete totaling 290,000 hectares. The Benga joint venture with Tata Steel is located on two of these licenses covering 25,000 hectares, where Riversdale has inferred a resource of 1.9 billion mt. These license areas are adjacent to the Moatize license area, held by Vale, that lies on the opposite, northen bank of the Zambezi River.

Riversdale has a producing mine, having acquired the Zululand Anthracite Colliery (ZAC) in KwaZulu-Natal, South Africa, from BHP Billiton in 2005. It has upgraded the mine to a 700,000-mt/y operation. "We will leverage the cash flow and geological know-how from mining ZAC's structurally complex coalfield to develop the Benga project in Mozambique," Riversdale's Business Development Manager Jacob Jonker said.

Because of its scale, the Benga project would be a company- maker for Riversdale and Jonker says it has set itself the target of production by 2010. The pre-feasibility study that has been completed is based on a 20 million mt/y ROM project of which the 6 million mt/y coking coal for export will be railed along the Sena railway line—capable of 18 million mt/y—with the remainder of the line's existing capacity allocated to Moatize.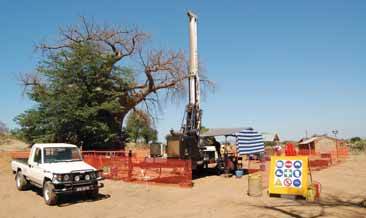 One of the four drill rigs operating at Riversdale's coal project.

Riversdale has formed a partnership with Elgas in looking to develop a 500-MW power station, in conjunction with Indian, Chinese or Japanese power companies. Up to $5 million will be spent on a feasibility study that has commenced for this power station. The idea is to build up this power station generation capacity in 500-MW units to 2,000 MW by 2017.

The Benga project would produce an export hard coking coal at approximately 10% ash, a secondary thermal coal product, consisting of an export thermal coal at approximately 20% ash and/or a domestic thermal coal at approximately 35% ash. The ROM product would go through a washing plant before being exported.

Between Riversdale and Vale alone there are some 4 billion mt of coal in the Zambezi basin. Riversdale's resource was inferred after covering only 2% of its holdings. "We started exploration in Benga because of its proximity to the rail line, but we have in place a three-year exploration program for all the other leases," Jonker said.

About 1 billion mt of the Benga resource is within 300 m of the surface and is mineable using conventional truck and shovel open-pit mining. The waste to ore stripping ratio at first would not be more than 1:1 and over the life of the mine will remain significantly under 5:1.

The deposit consists of about 20 seams of which five are major seams. Some of these are 30 to 40 m thick. They vary in age and give potential operators the chance to optimize blends for various markets. "It is quite rare to get multi-seam deposits with such wide seams that include hard coking coal," O'Keeffe said.

There has never been much doubt that the coal is there in the Zambezi Valley, in more than sufficient quantity. The problem always has been ensuring infrastructure capable of getting this coal to market. A key piece of infrastructure is CCFB's 580- km Sena rail line to Beira, which was damaged by Mozambique's lengthy civil strife in the 1970s and 1980s. CCFB is 51% owned by an Indian consortium of Rail India Technical and Economic Services and Indian Railway Construction International, while Mozambique's state-owned port and railway company CFM holds the remaining 49%. Jonker said that Mozambique has appointed a new minister of transport who is keen to expedite the whole process. CCFB has said that the railway rehabilitation is on track for a completion target in the second quarter of 2009.

The coal would be railed to the Port of Beira and then taken by barge out to deep-hulled ships. The Port of Beira would have to be upgraded, as it has limited capacity to handle coal on the scale the Zambezi coalfield and the market are capable of accommodating. CFM is looking for partners to build a new $150-million coal terminal at Beira.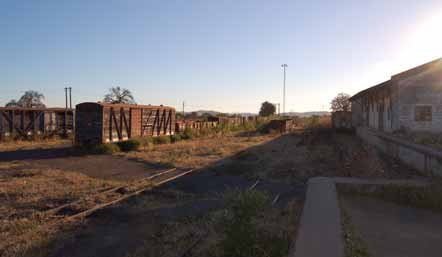 The rail line servicing the Moatize region is currently being repaired as part of a major government initiative.
This includes track and stations.

Mozambique's only existing coal exporting terminal, Terminal de Carvao da Matola, far to the south at Maputo is being restored by its owner, South African shipping and logistics group Grindrod, back to its original design capacity of about 6 million mt/y from its current throughput which is only about 2.5 million mt/y. Further modeling and investigation studies are also under way to potentially expand the terminal's capacity beyond the initial design capacity of 6 million mt/y in the near future. However, Matola is more realistically a port for coal exports from South Africa's much closer to Mpumalanga and KwaZulu-Natal coalfields than from the north of Mozambique.

An alternative to the Beira link Riversdale is investigating is that of barging material some 450 to 500 km down the Zambezi River. Following a desk-top study, it is undertaking a survey to scan the river to see how navigable it is. If the river barge option proves feasible, it would come in at half the cost of railing the coal to Beira. The project's export potential would then be much larger than the current plan entails. The development of the Zambezi River would also provide countries such as Malawi with port access, where exporters currently struggle to reach the international markets. "If it should pan out, we could comfortably double our envisaged production," Jonker said.

Riversdale plans to upgrade the resource and complete a bankable feasibility study on the project by the end of this year. "The markets are there, and it now becomes a question of getting the coal to them," Jonker said.

What will help Riversdale and others is that large mining projects have already been achieved in Mozambique, a benchmark being the 700,000-mt/y Moma ilmenite project located 170 km south of Nampula. Moma shipped its first product in December last year. With that project, which has 150 million mt of resources, Kenmare, a junior, broke a lot of the ground that companies such as Riversdale will traverse. Kenmare developed a bulk commodity export project in an area that had no infrastructure. In fact, Moma is looking to expand its output in 2009 to 1.2 million mt of ilmenite, 75,000 mt of zircon and 30,000 mt of rutile a year.
---
As featured in Womp 08 Vol 5 - www.womp-int.com