New Focus on In-Pit Crushing Systems
With diesel fuel prices skyrocketing, producers are taking a close look at this alternative to conventional haulage and crushing—and following up with purchase orders
By Kyran Casteel, E&MJ European Editor
---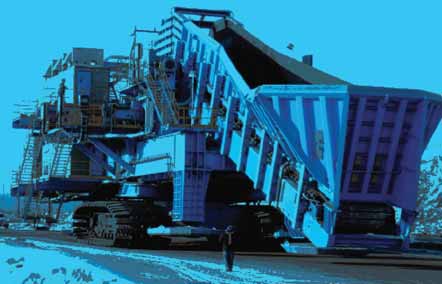 MMD Mineral Sizing (Canada) supplied Suncor's first fully mobile crushing plant, a 1500 Series OS1 rated
at 5,500 mt/h throughput.

Large, semi-mobile crushing plants have been an option for open-cut limestone, coal and metal operations for a long time now, since 1956 at least. The advantages of inpit crushing/conveying systems have been well-established since then but in the 1990s the availability of increasingly large haul trucks limited their appeal to some extent. More recently, though, mine developers taking advantage of increasing demand for coal and mineral commodities have paid more attention to the in-pit crushing and conveying (IPCC) option. Leading suppliers MMD Sizers, Sandvik, Tenova TAKRAF and ThyssenKrupp Fördertechnik (TKF) all told E&MJ the technology has enjoyed a renaissance. There have been multiple orders for semi-mobile units and also some for fully mobile crushing plants that work with large rope shovels—effectively the mining version of the system promoted for quarries since the early 1990s by Metso Minerals. Takraf and TKF believe there is a definite trend to mobile primary crushing plants.

In the last 30 months, TKF has received orders for 20 gyratory crushers, with many of these crushers being installed on semimobile crushing plants, including four for the Sino Iron project in Australia. The group has also commissioned a fully mobile plant with double roll crusher at a coal mine in China. Similarly, Takraf has received orders for semi-mobile crushing plants for the Los Pelambres operation in Chile, customers in Canada and Kazakhstan, and for a fully mobile crushing plant for a Rio Tinto coal mine in Australia. And UK-based MMD Sizers has received orders for eight or more semi-mobile units from Chinese customers, of which at least six have been delivered so far, and three or four for a customer in Colombia. MMD has also supplied a pioneering fully mobile plant to the Goonyella coal mine in Australia and another to Suncor's oil sands operation in Canada. In 2002, Sandvik supplied an IPCC system to the Mae Moh lignite operation in Thailand and last year was awarded a contract to supply one for Boliden's Aitik open-pit copper mine in Sweden.

This new attention presumably reflects the potential the IPCC option has to reduce mining costs and at the same time carbon emissions. Potential cost reductions stem from the increasing price differential between diesel fuel and electricity, the high-volume material movements required in large, long-life open-cut mines, and the need to contain manpower levels while improving safety performance. Improvements in the technology have also attracted attention. However, Sandvik Mining Technical Services points out, realizing these potential cost savings still requires very careful evaluation of geological, technical and economic factors at any given site.

Australian Iron, Chinese Coal and Canadian Oil Sands
Whereas magnetite has for many years been mined as iron ore in several countries, including China, the resources in the Pilbara region of Western Australia have so far been largely ignored in favor of the massive hematite reserves there. The Sino Iron project, being developed by CITIC Pacific Mining Management Pty Ltd. in partnership with lead EPC contractor China Metallurgical Group Corp. (MCC) is set to change this situation
The four in-pit semi-mobile units for Sino Iron will be similar to this one installed for Shougang Mining in China.

The mine, set to start production in 2009–2010, will be one of the largest open-pit iron ore mines in the world. Processing will involve large in-pit crushing plants, large autogenous and semi-autogenous grinding mills, and magnetic separation to yield a concentrate that will be pumped to a pelletization and port facility.

MCC has placed two major orders with the ThyssenKrupp group. Four semi-mobile crushing plants with a motor power of 1,000 kW and a nominal capacity of 4,250 mt/h are being supplied by TKF Mining and the bucket wheel reclaimer for the iron ore stockyard by TKF's Materials Handling business unit in collaboration with the Chinese subsidiary ThyssenKrupp Bulk Tec based in Beijing. The type KB 63 x 89-in. gyratory crushers for the semimobile plants are built by TKF's Processing business unit at Ennigerloh in Germany, TKF Mining is doing the engineering and is also responsible for purchasing and for fabrication supervision. The plants are generally similar to the two supplied three years ago to the Shougang Mining Co. in China for the Shuichang iron ore mine.

The direct dumping in-pit crushers will supply 0–250 mm product to five 40-ft AG grinding mills designed to Australian specifications by MCC and their subcontractor with the assistance of Australian engineering expertise. These will be constructed in Hunan Province by CITIC Pacific's sister company CITIC Heavy Machinery and equipped with Siemens gearless drives. These mills represent a first for both countries: mills on such a large scale have not previously been constructed by China, neither has this particular equipment been used before in Australia. Ren Qinxin, general manager of CITIC Heavy Machinery, said: "This is a landmark project for both our companies. It is the biggest order for ore mills ever placed in the mining industry."

Late in 2005, TKF sold a fully mobile crushing plant designed for use with a rope shovel at the Phase 2 expansion of the YiMinHe coal mine owned by Huaneng Yimin Coal and Electricity Co. in Inner Mongolia, China. The German firm said the plant was the first fully mobile crusher to have a free horizontally and vertically slewable feed and discharge belt, plus a turntable superstructure that does not support these belts and can follow the rope shovel (or other loading machine).

The complete delivery comprised the mobile crusher; mobile beltwagon A; the movable belt conveyor system (hopper and cable reel car, conveyor head station, conveyor tail station); semi-mobile beltwagon B; and a transport crawler for moving the conveyor head station and beltwagon B, initially from the erection site into the pit and thereafter when the belt conveyor is relocated. The equipment must be able to cope with a site temperature range from 40°C down to –48.5°C. The unique and quite complex design of the system elements posed a major contractual, technical and logistical challenge.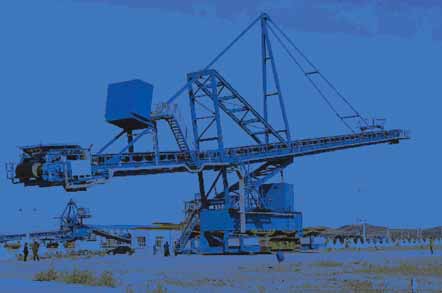 Late in 2005, TKF sold a fully mobile crushing plant designed for use with a rope shovel at the Phase 2
expansion of the YiMinHe coal mine owned by Huaneng Yimin Coal and Electricity in Inner Mongolia, China.
Shown here is the plant's "B" beltwagon.

There were three contracts, each covering general execution, fabrication and erection. The first contract was for the supply of the fully mobile crusher, comprising a double roll crusher with a nominal throughput of 3,000 mt/h and a maximum of 3,500 mt/h, a 70-m3 receiving hopper, a 2,400- mm-wide apron feeder, a 2,600-mm-wide scraper chain cleaner, and a 2,400-mmwide discharge conveyor, plus undercarriage, frame and the slewing systems for the superstructure and the discharge conveyor. The second contract was for the coal handling system (beltwagons, movable belt conveyor) and the third was for the 320-mt load capacity transport crawler.

The components shipped into China included: high voltage motors, slew bearings, gear boxes, hydraulic system components, special cast and forged components such as the crusher rolls and crawler chain links, heating elements, shock absorbers for the control cabin and E-house, and Arctic specification oils and greases. This required five shipments, with those components required for pre-assembly by the Chinese subcontractors going to the Port of Tianjin and those for erection at the mine site to Dalian. From there they traveled more than 2,000 km by road to the mine site near the Yimin He River south of Hulun Buir (Hailar) close to the borders of Mongolia and Russia. BQS Beijing carried out the electrical engineering. Erection started in April 2007 and was completed in October, with the customer's load tests being passed in November.

The Chinese-built rope shovel has a 28- m3 bucket and loads 0–1,800 mm material to the mobile plant and its 3,000-mt/h double roll crusher. The mobile plant can move at the same speed as the shovel. Crushed material sized 300 mm or less is transferred to the moveable belt conveyor via belt wagon A. The train of shovel, crushing plant and belt wagon is 64 m long. Equipped with the double roll crusher the plant is suitable for customers working in loose and solid rock mines with medium-solid rock of compressive strengths up to 180 MPa. The Huaneng Yimin mine has overburden and interburden comprising mudstone and siltstone that are not as hard as the coal which has to be blasted. (Depending on material types, the mobile plant can be fitted with other crusher types and the throughput rate can be anything from 500 mt/h up to 13,000 mt/h.)

The machines work a three bench system in blocks of 2 x 25 m. The conveyor runs on the belt bench. The shovel and crushing plant first work on a bench 8 m above the belt bench and the shovel cuts a 15-m-high block above this. They then move to the belt bench and remove the 8- m bench above it and then an 8-m bench below. The total bench length is up to a maximum of 1,700 m. The machines are all controlled by the shovel operator.

One kind of mining where semi-mobile crushing became standard practice in the 1990s but where operators are now looking to the combination of shovel and fully mobile crusher is oil sands production in Canada. Both TKF, via Krupp Canada, and MMD through MMD Mineral Sizing (Canada) have been active since the early 1990s when the introduction of semimobiles was part of a switch from bucketwheel excavator and dragline mining to shovel and truck methods using progressively larger capacity equipment. Now, it seems, there may well be a switch to using shovels loading the ore directly to highcapacity mobile crushers that in turn supply the crushed material to a slurrying plant which prepares it for hydro-transport to the primary oil extraction facility. The system has been termed mobile ore preparation.

Syncrude has been testing this technology with a pilot project at its North mine since 2006 while Synenco plans to use mobile crushing at the new Northern Lights oil sands project 100 km northeast of Fort McMurray. But Suncor has gone so far as to develop a fully mobile crusher with MMD, who had already supplied the mobile to the Goonyella coal mine in Australia during 2002. Much of the new design incorporates Suncor proprietary technology. This machine has been used in one of Suncor's existing pits while a newer one ordered from TKF/Krupp Canada and incorporating various modifications is intended for use at the Voyageur South mine now under development, possibly with a third crushing plant to come later. The TKF unit differs in design from the YiMinHe one because Suncor's mining/processing method does not require slewing movements and the crusher will work with a bridge conveyor. In addition no hopper supports are required and the simpler construction allows a throughput capacity of 10,000 mt/h. According to Suncor, the mobile preparation system is expected to reduce air emissions when compared with shovel/truck methods. Mobile crushers should also reduce the ground stability problems associated with large trucks.

Chilean Copper and Australian Coal
Tenova TAKRAF (Takraf) has also benefited from the resurgence of interest in IPCC technology. For example, in March 2007, Bechtel Chile ordered a semimobile crushing station from Takraf for the Los Pelambres copper mine, located in Chile's Region IV. This plant, incorporating a 60 x 113-in. gyratory crusher and a high-volume discharge conveyor, has been supplied on a very short delivery and construction schedule. The capacity is 7,500 mt/h and the unit will treat feed up to 2,000 mm in size to yield a –200 mm product. The plant features an apron feeder and a 55-m3 surge pocket between the crusher and the enclosed discharge conveyor. It is designed to cope with seismic events. The crusher structure and the service module are not connected during operation but can be relocated as a single load on a multi-wheel trailer.
Takraf is building a fully mobile IPCC for the Rio Tinto Coal Australia's Clermont mine project. The plant is mounted
on crawlers, which can be linked to the face conveyor using a belt wagon so that haul trucks can be eliminated.

The Wostochny coal mine in Kazakhstan has ordered an overburden handling system with two semi-mobile crushing plants, each with a capacity of 4,250 mt/h, plus a shiftable dump conveyor with tripper car and a compact spreader to be commissioned within 25 months. The 2,000-mm double roll crushers will treat sedimentary rock sized up to 1,500 mm and will yield a product size of about –300 mm. Winter temperatures can fall to –43°C at the site and the dump hoppers will be enclosed and equipped with a dust collecting system.

For an almost equally cold Canadian copper open-pit Takraf will supply a direct dump movable crushing plant equipped with a 4,000-mt/h, 60 x 89-in. gyratory crusher from Metso Minerals. The design will be similar to one the company built for a Mexican copper mine in 1997.

Takraf is also building a fully mobile IPCC. In early 2007, Rio Tinto Coal Australia (RTCA) and its joint venture partners approved the development of the $750-million (A$950-million) Clermont mine in Central Queensland. RTCA placed an order with Takraf Australia that covers the design and supply of IPCC equipment for the new open-cut coal mine, which has reserves of 189 million mt coal. Clermont is located approximately 15 km southeast of Rio Tinto's Blair Athol mine and will ramp up while mining at Blair Athol winds down. This will keep the existing infrastructure in full use and maintain the operation's market position. The project construction period is 40 months.

Rio Tinto Chief Executive Energy, Preston Chiaro, said Clermont is a very attractive investment and will operate in the lowest cost quartile of Australian thermal coal producers. Rio Tinto's initial joint venture partners in Clermont development were Mitsubishi Development Pty. Ltd. (34.9%), and J-Power Australia Pty. Ltd. (15%). JCD Australia Pty. Ltd. took a 3.5% interest in the joint venture later, resulting in Mitsubishi Development Pty Ltd.'s interest reducing to 31.4%.

Clermont will become Australia's largest thermal coal producer when it reaches full capacity, scheduled for 2013, producing 12.2 million mt/y of high-quality thermal coal and supplying Japanese power utilities and other customers. The mine will mainly exploit the Wolfang seam, which has an average thickness of 45 m and constitutes 90% of the reserves, and is expected to have a life of about 17 years at this production rate. Coal from Clermont will be transported via a 15-km conveyor to the existing product stockyards, stacker/ reclaimers and train load-out facilities at Blair Athol. The coal will travel 278 km by rail to the Dalrymple Bay coal terminal. The mine will employ 400 people in the construction phase and approximately 380 during operations.
The Clermont mine will work a three-bench system with its fully mobile IPCC.

According to RTCA, the in-pit crusher and conveyor system will halve the haul truck requirement and the mobile fleet will use fuel efficient engines. The major items Takraf is supplying include: a fully mobile crushing plant on crawlers, able to crush up to 12,000 mt/h of overburden; a crawler-mounted tripper car and a compact spreader; and a belt conveyor system. The mobile crushing plant will be fed by a P&H 4100 XPC rope shovel. The material is received from the shovel into a hopper and transported via an apron feeder to the sizer. The crushed material is then moved by the sizer discharge conveyor and fed via a slewable discharge boom conveyor to a conveyor system and finally to the tripper and spreader.

Clermont will remove basalt, clay and gravel from above the Permian Coal Measures using three different systems:
• Conventional shovel/truck with haulage to ex-pit and in-pit waste dumps;
• Conventional shovel excavation with truck haulage to an in-pit hopper, located in the box cut, for crushing and conveying to an ex-pit waste dump; and
• The full mobile system which will discharge to a face conveyor feeding to expit and in-pit waste dumps. Apart from the 4100XPC all the shovels will be hydraulic excavators.

Once the box cut is established the electric shovel will excavate a series of three 15-m-high benches, feeding waste to the Takraf crawler-mounted crushing plant. The upper and lower bench waste will be transferred by a mobile beltwagon to the shiftable face conveyor on the middle bench. Face advance distance per mining block is 60 m with total working depth interval for a single face conveyor at 45 m. Face conditions may allow this to be extended to 54 m. To extend mining downward a second face conveyor will be installed to remove the waste from three more benches. RTCA says that when basalt with a UCS over 125 MPa is encountered it will be hauled from the bench.

Thai Lignite, and Swedish Copper
A really long-term devotee of in-pit crushing is EGAT—the State Electricity Commission of Thailand, which has had semi-mobile plants at its Mae Moh operations since 1984. Although EGAT mines the coal, it contracts out the overburden removal in phases. The Phase V contract, covering removal of approximately 500 million m3 waste, was awarded to the Italian-Thai Development Public Co. (ITD). In June 2001, ITD ordered a complete new materials handling system from Sandvik Mining & Construction Materials Handling by way of a turnkey contract. The system was designed to cope with high summer temperatures, heavy monsoon rainfall and overburden materials ranging from dry and abrasive to muddy and sticky. The first of two production lines started operating in March- April 2002 and a second one two months later.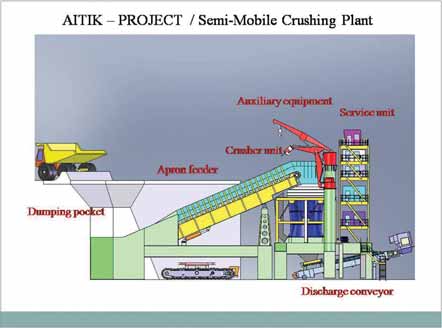 Sandvik semi-mobile crushing station for Aitik.

The equipment for the two lines comprised four 5,500-mt/h-capacity semimobile crushing plants, an 11,000-mt/h conveying system made up of 14 conveyors, each 1,800 mm wide, and two 11,000-mt/h overburden spreaders with tripper cars. The conveyors lift the waste some 150–200 m up to the dumping area. The scheduled removal rate was about 27.5 million bcm but ITD actually averaged 35 million bcm for the first two years of operation. The semi-mobile crushing plants are equipped with MMD Mineral Sizing Sizer 1300 units with four-tooth rotors. The Sandvik belt conveyor system has an installed power of 38 x 1,000 kW and a length of 13,800 m. The Sandvik spreaders are PA200- 2000/50+50 units with tripper car. The EX2500E hydraulic excavators and the EH1700 trucks came from Hitachi.

Right now, Sandvik Materials Handling is working on the new crushing and conveying system required by Boliden's major expansion at the Aitik copper mine in Sweden (see E&MJ, October 2007, pp. 44-48). The existing in-pit crushing system will be retained at least until the present concentrator is shut down and during this period a new semi-mobile inpit crushing plant will be installed in the northern section of the open-pit, as well as a new crusher on the surface close to a stockpile feeding the 3.5-km overland conveyor to the new concentrator. The semi-mobile in-pit crusher will deliver product to this stockpile via a new 3.5- km underground conveyor system.

The two new crushers are designed to treat ROM up to 1,200 x 1,200 x 1,200 mm with an ore density of 2.8 mt/m3 and a bulk density of 1.8 mt/m3. The maximum size of the crushed product will be 300 x 300 x 600 mm. The semi-mobile will be moved by a Sandvik VATC transport crawler.
---
As featured in Womp 08 Vol 5 - www.womp-int.com