Big Wheels Keep on Turning
Although the structure of the market for bucketwheel and bucket chain based equipment has changed over the years, design advances have enabled the technology to retain a significant place in the production and distribution of coal and minerals
By Kyran Casteel, E&MJ European Editor
---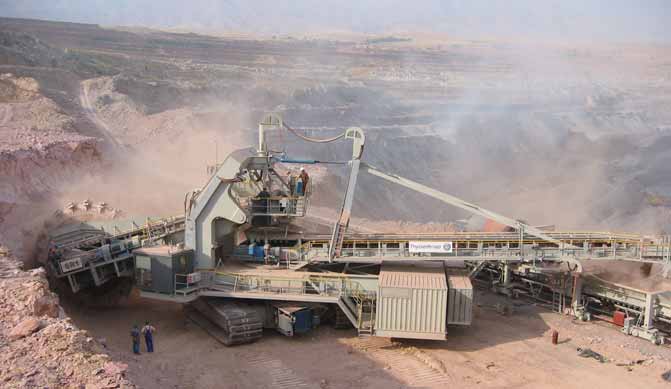 This ThyssenKrupp Fördertechnik compact BWE was delivered to the Angren open-cast lignite mine in Uzbekistan during 2003 when the company completed the first
stage of a program to convert the operation to continuous mining technology.

Bucketwheel technology evolved from waterborne ladder dredgers in the late 19th and early 20th centuries to create some of the world's largest land-based machines. The concepts may be old, the machines big but some of the technology elements are now very small and smart. Innovation has helped keep bucketwheel based systems stacking, reclaiming and shipping bulk materials at ports and mine sites, excavating and waste disposing in mines, and handling ore for heap leaching at hydrometallurgical process plants. For much of the 20th century the main engineering focus was on mechanical capability and scale but in the last three decades focus has been on the electric power, control and automation systems. Consequently the electrical systems suppliers, notably ABB and Siemens, have not only played an increasing role in new machine design but have also developed significant amounts of business refurbishing existing machines in collaboration with OEMs and also retrofitting new electrical technology for mining customers.

Bucketwheel Excavator Development
The two major changes from the early bucket chain (BCE) and bucketwheel (BWE) excavator designs were the switch from steam to electric power and the introduction of crawler undercarriages as an alternative to movement on rail track. The BCE is roughly equivalent to a backhoe excavator in operation, while the BWE is more akin to a face shovel. But in mining use, BWEs and BCEs are often used similarly to the dragline for stripping overburden and placing the spoil in mined voids. Either a separate ground-based conveyor system may take the waste to a spreader—often a long distance away—or the excavator may discharge to a bridge conveyor that crosses the pit being mined and discharges to a previous pit. Both are obviously more complicated in operation than a dragline but can handle a larger volume of material per hour.

In the later part of the last century BWEs developed along a path similar to that followed by the electric rope shovel, both mechanically and electrically. However, whereas the rope shovel is normally used as a loading tool in mining, the BWE can be used for direct soft rock mining without blasting, as can the hydraulic excavator. And whereas both BWEs and rope shovels were extensively used until the 1970s for earthmoving and mining applications in a range of sizes, both have since been almost entirely displaced by hydraulic excavators for earthmoving and in all but the largest-scale mining operations.

These operational factors have meant that BWE and BCE development has focused on one of their earliest applications— mining lignite (brown coal) deposits and other extensive and continuous soft rock overburden and product strata such as oil sands. Working in conjunction with high-capacity conveyors, these machines can continuously deliver high tonnages to a process plant, especially cost-effective where the rate of customer offtake is consistent, as with power stations or petroleum production. Today, lignite mining for electric power generation is the main application, although some smaller compact BWEs are used in industrial minerals mining and special situations.

This niche position does not mean that BWE and BCE manufacturers have been able to take it easy. Lignite is not the world's best fuel and users have to compete with more efficient power generation systems. For example, during the 1980s, to optimize operation of the power supply, automation and drive systems for bucket chain and bucketwheel excavators, Siemens worked with OEMs to develop the Simine EXC solution package, a complete electrical engineering, drive, automation and service package. When run with this solution, BWEs and BCEs can be loaded to their performance limits with no risk of load peaks. Low- and high-voltage switching stations provide an uninterrupted power supply and the SIMATIC S7 automation system guarantees reliability, according to Siemens, especially when coupled with variable speed drives. A significant advantage of using Simine EXC is that the systems are highly consistent, requiring fewer interfaces for data exchange, thereby simplifying project planning. The package can also be used to control stockyard operations, ensuring optimal material flow by utilizing precise information about material composition, quantities and storage locations. An early beneficiary of the package was the Neyveli lignite operation in India, where it was fitted to more than 30 BWEs, stackers and reclaimers as long ago as 1982. Over the next two decades these machines operated smoothly, Siemens reports, reducing wear and tear and downtime, and reciprocally increasing availability and throughput.

In the 1990s, ThyssenKrupp Fördertechnik and Siemens collaborated with Cologne-based Rheinbraun to design and construct a new BWE—Bagger 292—for the Hambach mine now operated by RWE Power, Germany's largest power producer. The major design objective for this 13,000-mt, 200,000-m3/d-class machine was to increase productivity under difficult excavating conditions. This was to be achieved by exploiting the full potential of more advanced technology that had been developed since Rheinbraun started using this size of machine in 1976 at the Fortuna mine.

The excavator was to be used in an area where geological faults, dipping seams and irregular bedding planes, low cutting heights and hard, coarse clays and coal with rock inclusions all made mining difficult. To meet this challenge Rheinbraun wanted to increase the maximum boom slewing speed from 30 m/min to 40 m/min and the maximum hoisting speed from 5 to 7.5 m/min. The bucketwheel was to have a variable discharge rate between 48 and 72 buckets/min. To achieve these rates and increase the BWE's dynamic response without increasing mechanical wear the design team opted for closed-loop control technology with automated functions to free the operator from routine tasks.

Another key new design element was the use of new AC drive technology with pulse-controlled converter feed. The travel and boom slewing motions and the bucketwheel drives were provided with AC squirrel cage motors, fed by voltage-source converters with GTO pulse-controlled inverters. Siemens provided a complete system, from the 110-kW boom slewing drives right through to the 1,680-kW bucketwheel drives, with uniform operating functions, diagnostics and open and closed-loop control. The self-ventilating motors with IP 55 level protection were specially designed for the heavy loads typical of open-cut mining.

Given the introduction of open and closed-loop controllers for machine operation, with the Simovert P converter system, Rheinbraun decided to use the digital Simadyn D closed-loop controller for the technological controls. The self-ventilating controller communicates via serial links with individual converters, easing diagnostics and fault location. The flexibility of the programmable logic control technology would allow Rheinbraun to adapt functions to meet future new requirements.

The automation concept emphasized decentralized structures to maximize operating safety and equipment availability. Generating a huge number of data items, these structures required high performance communications systems and Siemens used the SINEC LE 2 bus system developed especially for mining and integrated in the Simatic PLC system. The primary task of the automation system is to ensure that the bucketwheel continuously digs the material volume set by the excavator operator. Setpoint for the boom slewing speed is the bucketwheel motor current; the conveyed weight and volume values are acquired at the discharging conveyor belt; and the boom speed is reduced when the limit values are exceeded. The volume flow on this belt is measured by a specially developed load-sensing device with laser scanner. In each of the two control cabins the operator is supported by an operating data and a productivity trend monitor.

More recently, Siemens has developed the Simine MES Manufacturing Execution System with an extended opencast mining industry library. Intended to bridge the gap between the process automation system and business management procedures, the package includes interfaces to the production units as well as standard new functions that support management by providing online information on production activities along the whole process chain. Special MES functions based on Simatic IT components have been added to cover the various steps in open-cast mining, from excavation to crushing and secondary processes such as water treatment and stockpiling. Using this information, key performance indicators can be generated to analyze performance, safety and environmental conditions.

Recent Deliveries
The major German manufacturers of BWEs agree that the domestic lignite mining operations are generally well-equipped. However, a rather high proportion of the machines in some eastern and southeastern European coalfields need replacement or refurbishment, particularly those in the conflict areas of the former Yugoslavia.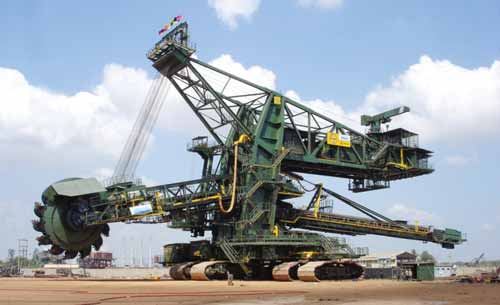 Sandvik's largest BWE, the PE200-1400, is shown here at the company's erection yard, ready for work at India's Neyveli
lignite mine.

Tenova Takraf, part of the $30-billion/y Techint group, has built a full range of continuous mining equipment for many years, including the massive overburden conveyor bridges that are a feature of lignite mines in eastern Germany where the geology suits this particular system of waste disposal. The Takraf mining technology complements the port and other bulk handling technology that Techint acquired when it took over Italimpianti. CEO Rainer Kahrger says mobile and semi-mobile crushing is a particularly strong market for new equipment at this time while BWE and related equipment refurbishment in eastern Europe is creating a lot of work for the company. One reason refurbishment is being preferred to ordering new units, he adds, is the difficulty of finding companies willing to build the new, complex gearboxes required in limited numbers. But Takraf is able to build these gearboxes with standard components so that effectively the entire drive head for a refurbished machine can be replaced. The company has 10 BWE refurbs on order for delivery by 2010, plus other longer-term jobs as well. Seven of the machines are for use in Poland, others for southern European customers.

Also located in the Lausitz lignite mining area of eastern Germany, the electrical and electronics engineering operation at Cottbus is similarly a major supplier of technology to the bucketwheel equipment sector. Now owned by ABB Automation GmbH the unit has fitted more than 1,000 large mining machines with electrical systems over the past 50 years and has enjoyed close but by no means exclusive relations with Takraf and FAM Förderanlagen Magdeburg und Baumaschinen (FAM). Today Cottbus is the ABB Center of Excellence for Open-Pit Mining.

In the second half of 2006, Thyssen- Krupp Fördertechnik (TKF) was awarded two major orders by the state-owned power utility PE Elektropriveda Srbije (EPS) in Belgrade to supply a BWE and spreader. These units are part of a significant investment program by EPS aimed at securing and expanding electricity supply on the basis of coal-fired power plants. EPS operates numerous open-pit lignite mines in Serbia with an overall capacity of around 35 million mt/y. These mines supply coalfired power plants which cover some twothirds of Serbia's electricity requirements.

Two further orders were signed in the same year for the delivery of a new beltwagon/ spreader and the reconstruction of an EPS BWE damaged in December 2005. The orders are worth approximately €42 million and are being carried out with the involvement of Serbian companies, whose supplies and services include the production of mechanical and electrical components and steel structures as well as the assembly and start-up of the equipment under the supervision of specialists from TKF. ABB is also involved in the overall project, modernizing the Tamnava West mine control room with three System 800xA operator stations as well as supplying equipment for several of the mining machines.

TKF is supplying a crawler-mounted BWE with a capacity of 6,600 lm3 per hour to remove overburden at the Kolubara/Tamnava West open-pit lignite mine. The system, comprising excavator, connecting bridge and loading unit, is part of a completely new handling line which also includes conveyor belts, a spreader and the general power supply. The order for the BWE includes engineering, delivery, assembly and start-up as well as training of operating personnel. The contract has a total term of 30 months. The project is being financed by the European Bank for Reconstruction and Development (EBRD) in London and the Kreditanstalt für Wiederaufbau (KfW). ABB is providing ACS800 Multi Drive type frequency converters and a Freelance 800F control system for the BWE, new ready-to-use electrical systems for a spreader, and AC800F control technology to upgrade the FAM belt drive stations. The mining equipment, belt stations and moving heads are visualized and operated on site with DigiVis stations. ABB is providing ACS800 Multi Drive type frequency converters and a Freelance 800F control system for the BWE, new ready-to-use electrical systems for a spreader and AC800F control technology to upgrade the FAM belt drive stations. The mining equipment, belt stations and moving heads are visualized and operated on site with DigiVis stations.

Under a further investment project, a second complete handling line is being built for the Kostolac/Drmno open-pit lignite mine. For overburden removal, TKF is supplying the dumping unit, comprising a spreader and tripper car. This unit is designed for a handling capacity of 8,500 lm3/h. The spreader travels on crawlers and is 135 m long. Delivery and start-up are to be completed within 24 months. This investment project is being financed by EPS.

Following a decision by EPS, the BWE damaged at field D of the Kolubara open-pit mine is to be rebuilt and fully overhauled as quickly as possible. In addition to component repairs, major equipment assemblies and electrical systems are to be completely renewed using the latest technology. TKF is supplying the know-how and engineering for the repairs. The work will be carried out in collaboration with Kolubara Metal, which is responsible for all local content. The aforementioned orders strengthen and continue the relations TKF has already enjoyed with EPS for many years. Together, the two companies are making a major contribution in securing and expanding electricity supplies in Serbia.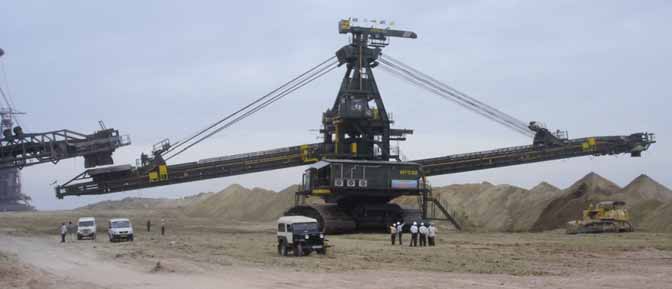 One of three Sandvik beltwagons delivered to the Neyveli mine.

In addition to Takraf and ThyssenKrupp Fördertechnik, Sandvik also builds large BWEs, plus belt wagons and spreaders.

These are a major part of the materials handling product portfolio acquired from Voest Alpine and headquartered in Leoben, Austria. At the end of January 2008, Sandvik's largest bucketwheel excavator (PE200-1400/2x30) was inaugurated with an official ceremony at India's largest brown coal open-pit mining operation, Neyveli mine II (mining 24 million mt/y of lignite for power plants with installed capacity of 2,490 MW). This large excavator has a bucketwheel boom length of 32 m and a bucket capacity of 1,400 liters (370 gallons). Also included in this contract are three PB100-2000/35+40 belt wagons which have already been installed, two more large BWEs and a smaller PE200- 700/5x20 BWE.

The journey for Sandvik with Neyveli Lignite started with the supply of two transport crawler units in 2000. Further progress was made by supplying two crawler-mounted spreaders, each with a discharge boom length of 60 m, and three belt wagons handling 4420 m3/hr. NLC reconfirmed their confidence by ordering three more belt wagons during 2002. With the subsequent addition of seven new machines, the number of Sandvik machines installed in NLC mines in a span of eight years totals 16.

In October 2007, Siemens announced it had received an order from RWE Power for a metal and rock detection system to be installed on BWEs. The aim is to reduce damage to the excavator conveyor belts and increase their availability.

The detection system—developed jointly by RWE and Siemens—is directly installed in the impact area behind the bucketwheel. Up to eight separate acceleration sensors on the impact wall, chute and festoons are able to detect when small and medium-sized rocks hit the metal. The festoon sensors mainly detect large rocks which—because of their mass—are not thrown against the metal. In addition, an integrated metal locator coil detects any metal which is present. The system is being continually developed because, at the moment, it is not possible to find out whether the bulk material detected is made up of rocks or frozen blocks or lumps of clay, for example. In order to avoid an unnecessary reduction of the production equipment's availability because of this restriction, the systems are switched on or off by the equipment operators or their sensitivity is varied when necessary.

The rock detection function makes it possible to determine the position of the problem material so that a rock crane can rapidly remove it. As a result, the excavator's availability is increased and damage to the conveyor belts is avoided because the detection system prevents rocks from becoming wedged in place and thus tearing the belts. The detection system is controlled using a Siemens S7 400 automation unit. An FM458-1 module detects connecting points and problem points on the belt and exactly detects the position of the rocks to be removed. A WinCC system used for visualization shows the precise material locations and then logs and archives the checking processes. Small or large items which are detected have to be picked out by the system so that their transfer to a rock crane can be calculated and carried out.

At the moment, the system is being used on excavators in the Garzweiler and Hambach open-cast mines.

Upgrading Existing Machines
Between 1995 and 2000, a consortium formed by Siemens and FAM equipped 10 type Es 3150 and ES 3750 Magdeburg BCEs owned by Vattenfall Europe Mining with gearless drives. And in mid-2007, the same consortium received an order to equip two more Vattenfall BCEs with gearless drives. The drives will reduce the wear on the chain and tumblers and require very little maintenance. Completion of the project is scheduled for mid-2010. Vattenfall Europe Mining supplies approximately 60 million mt/y of brown coal to the Jänschwalde, Schwarze Pumpe and Boxberg brown-coal power stations in the Lausitz region of eastern Germany. Boxberg is being expanded and to secure long-term stable supplies Vattenfall intends to recommence coal extraction at the Reichwalde open-cast mine in 2010 in addition to the on-going Jänschwalde, Cottbus-Nord, Welzow-Süd and Nochten open-cut mines.

For the reopening of Reichwalde, Siemens and FAM are equipping two type Es 3750 Buckau BCEs with two gearless drives for each chain. These drives have slow-running motors whose speed can be controlled steplessly by way of the frequency. Power is supplied via cyclo-converters and the moment of inertia acting on the chain is considerably reduced in comparison with geared drives with high-speed motors. As a result, the mechanical stress on the chain is reduced and its useful life is increased. The order includes technical design, delivery, installation, commissioning and trial operation of the drive systems. After the handover, Siemens will continue to look after the drive systems in the framework of existing service contracts using its service base for Vattenfall in the Nochten open-cast mine.

For the Profen open-cast lignite mine in Sachsen-Anhalt, Germany, Mitteldeutsche Braunkohlegesellschaft mbH (Mibrag) acquired an SRs 2000/1580 BWE from the Czech Republic. Among other new equipment the excavator was retrofitted with completely new electrical equipment, including a new controller. Now with an electrical power capacity of 3,154-kW and bucketwheel drive power of 800-kW, the upgraded machine went into service at the end of May 2006, achieving an annual output of 12 million m3.

Gesa Automation, based in Teuchern near Leipzig, undertook the partial configuration and production of the more than 60 switch cabinets required for the upgrade. Great emphasis was placed on quality and reliability when selecting the necessary components as maximum availability of the BWEs electrical equipment throughout three-shift operation was a key objective. All the signals are read in and read out in a distributed configuration, using automation components, and a reliable 24-volt power supply is critical.

Gesa decided to rely on Siemens Sitop series power supply units which provide favorable ambient temperatures for all other components with no output voltage fluctuations— so the connected components can be optimally supplied with their mains voltage at all times and can operate in the ideal voltage range. The electric current limiters on the power supply units provide line protection but the devices always deliver sufficient electrical output to start even critical consumers. The power supply units also have ample reserves for reliable system operation in the event of temporary overloads and numerous auxiliary modules can cope with failures in the supply network and the Sitop uninterruptible power supply units have proved they can keep the automation technology working. By combining the power supply with a DC UPS module and a battery module even bridging periods lasting hours can be handled by stepped down power stages. Redundant power supply is also possible, says Siemens.

Likewise, ABB Automation has been heavily involved in modernization projects for some years, not only at mines and power plants in Germany but also in Bulgaria and Serbia. In Bulgaria, ABB has been upgrading three BWEs at the Trojanovo 1, 3 and North mines supplying the Mini Maritz Iztok EAD power station. The last to be completed is a type SRs 1200 at Trojanovo 3, scheduled for startup in September 2008. Prior to the current work for EPS in Serbia, ABB provided control technology, air conditioning, operator cabins and video supervision equipment for the rehabilitation of a 4,000 m3/h capacity SRs 1201 BWE and loading unit at the Kolubara Field D mine, which was commissioned in 2004.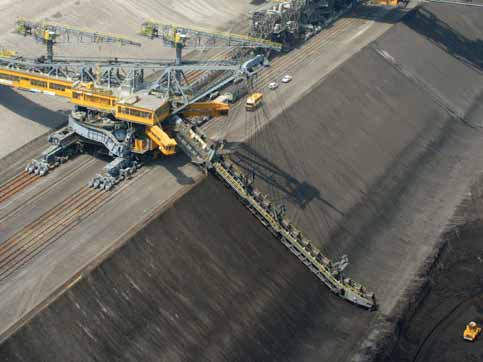 Bucket chain excavator used in the Welzow open-cast mine.

Materials Handling Applications
Numerically, the market for bucketwheel reclaimers (BCRs) used in stockyards is probably greater than that for mining BWEs. ThyssenKrupp estimates that 235 BWEs have been sold to mining customers since 1970 while 275 BWRs have been sold for stockyard use over the same period.

One of ThyssenKrupp Fördertechnik's major recent bulk handling projects was the turnkey construction of a coal handling plant for a new 3 x 700-MW power plant at Tanjung Bin in Malaysia. The system, ordered in January 2004, included three combined bucketwheel stacker/reclaimers, the complete belt conveyor system with an advanced control system and two continuous ship unloaders. These ship unloaders are each designed to unload vessels ranging from 35,000 to 150,000 dwt at an unloading rate of 2,000 mt/h. A high degree of automation and a computer-aided unloading program enable the operator to monitor and control the unloading process from a cabin situated next to the bucket elevator using video assistance. A feature of the system is a rotary feeding table that ensures continuous material discharge at the bucket elevator, while an angled unloading tube maximizes access to the holds of larger ships. The unloaders were successfully tested by the client in August 2006 and the whole facility was completed in 2007.

Closer to home, ThyssenKrupp Fördertechnik is installing its sixth bucketwheel stacker/reclaimer at a coal/ore stockyard in the EMO bulk terminal at Rotterdam, Netherlands. Whereas the first five units have 50-m booms the new one has a 60-m boom and will have a stocking capcity of 6,000 mt/h and a reclaim rate of 4,500 mt/h.

Takraf and ABB are working on the Wanino harbour coal handling project in far eastern Russia, where the ambient temperature can be less than 40°C. The customer is the Siberian Coal Energy Company (SUEK) and the equipment systems include crushing and screening stations, three stockpiling machines, two shiploaders and controls for 15 belt conveyors. System capacity is 3,500 mt/h coal.

Stockyard machines including stackers, reclaimers and stacker/reclaimers are also an important segment of Sandvik's bucketwheel technology offering. In Asia, for instance, Sandvik delivered a first materials handling installation during the 1980s, to Semirara Coal in the Philippines. Thereafter, they became popular throughout Asia, and can now be found at prominent locations such as Baoshan, Tianjin and Shenzhen in China, and Mae Moh in Thailand, among others.

Coal handling has remained an important market and recent projects include an innovative facility for Associated British Ports at Immingham, commissioned in summer 2006, and delivery of an integrated system to Bourgas in Bulgaria, also in 2006. Two on-going contracts, both signed in August 2007, are for a bucketwheel stacker/reclaimer being installed at the Delta deep-sea coal terminal in Vancouver, Canada, and for supply of two more BWRs for the Kooragang coal terminal, Port of Newcastle, in New South Wales, Australia, which is operated by Port Waratah Coal Services. These two reclaimers, which are scheduled to be operational by the end of 2009, will each have a capacity of 8,000 mt/h and a boom length of 59-m and will be among the largest reclaimers in the world. A similar reclaimer was installed at the terminal in 2001.

Among a range of mining and bulk handling machinery, Strachan & Henshaw at one time built compact BWEs under licenses in Bristol, UK. Today, this operation is home to David Hicken, vice president Bulk Materials Handling for the Metso Minerals mining business line and his team. Coal handling operations are a significant market for Metso as for Sandvik and in April this year the company announced it will supply a bucketwheel stacker/reclaimer to Drax Power Ltd. in North Yorkshire, UK. Delivery will be completed during the last quarter of 2009. The order covers the design, supply, installation and commissioning of the machine to handle coal at the company's 4,000-MW power station, claimed to be the largest, cleanest and most efficient coal-fired power station in the UK. The new stacker/reclaimer has a designed stacking capacity of 3,000 mt/h and a reclaiming rate of 2,500 mt/h. Featuring a boom reach of 38 m, the machine will replace the existing stacker/reclaimer installed by Metso's predecessor in 1974 and the order includes dismantling the old machine.

Metso Minerals is already working on a coal handling facility at the Richards Bay terminal in South Africa.

Heap Leaching Initiatives
In the 1980s, German manufacturers and customers made a significant effort to market the benefits of continuous surface mining technology outside the lignite industry. One of their target markets was the Chilean copper industry. For instance, Rheinbraun Engineering designed waste handling systems for Codelco's Chuquicamata operation.

A more innovative application, which brought together mining and materials handling, was the use of stacking and reclaiming technology for building large new heap leach piles and removing the material when leaching has been completed. Both Takraf and FAM Förderanlagen Magdeburg (which was originally the power station conveyors manufacturing unit within Takraf but later became a significant supplier of bulk handling equipment/systems) have developed and supplied this type of system to mines in Chile.

Takraf has built all the 8,000–9,000- mt/h-capacity heap leach systems in use in Chile, all of which have been fitted with GPS-based navigation systems, starting with the El Abra race track system. Accuracy is ±1 in. in the horizontal plane and ±2 in. in the vertical plane. Takraf's latest heap leach installation is at Codelco's Gaby project, where the system (See E&MJ, Best of Germany supplement, July-August 2007) is now in place. As at previous projects, Takraf has selected ABB Automation to supply the electrical technology for the 8,300 mt/h stacking and 9,300 mt/h reclaiming systems.

Meanwhile, FAM has been working at BHP Billiton's new Spence copper mine in northern Chile, where BHP Billiton started planning a new leaching system in 2003 and in 2004, charged FAM with the turnkey erection of this complex system. For a commissioning date of August 2006, FAM delivered and assembled about 7,500 mt of materials handling technology, which included crawlermounted stockpiling belt conveyors (300 and 425 m long, respectively) for the copper oxide and sulphide heaps; another crawler-mounted recovery belt conveyor (300 m long) for the copper oxide heap; a bucketwheel reclaimer; crawlermounted spreader and belt wagon; four stationary conveyor systems, total length 5,700 m; a shiftable conveyor system, 950 m long; five tripper cars; and two hopper cars.

The Spence mine uses dynamic piles for effective utilization of the huge stockyard area. The piles are continuously reclaimed after finishing the leaching and subsequently rebuilt with fresh ore. The leached material is conveyed to final storage by a dumping system.

The specific design of the crawlermounted conveyors makes few demands on subgrade building. The crawlermounted conveyors used for the Spence project include novel function and control principles applied for the first time. Individual crawler undercarriages now incorporate features which compensate for differences in level and inclination in every direction. The positions of the entire mobile conveyor can be adjusted at any time, even lengthwise. The system is insensitive to temperature so that belts run with a high degree of reliability.

According to the company, the leach pad system for copper oxide at the Spence mine has provided reliable operation since August 2006, and the stipulated performance level has been achieved. The entire facility has been designed for easy maintenance, with a high level of component standardization to reduce the number of spare parts to a minimum. This includes individual parts, drive assemblies and even complete undercarriages.

Diagnostic data for the most important drive assemblies is centrally collected by a tele-service station as a base for ZEDAS, a condition and event monitoring system, which uses these system parameters (transmitted by WLAN) to calculate servicing intervals and data for necessary maintenance and repairs, and even forecasts potential defect spots. Faults can also be diagnosed retroactively.

A closed circuit television system has been installed using a large number of Ethernet-capable cameras and workstations, which are linked via another wireless network. The images of each camera are fed to the network and may be recorded or reproduced at any internal or external workstation.

A three-year maintenance contract for the facility described has been awarded to the Chilean company FAM América Latina Ltda., a wholly-owned subsidiary of FAM GmbH.
---
As featured in Womp 08 Vol 4 - www.womp-int.com