Resurgence in Johannesburg's Gold Tailings Reclamation
---
The Ergo tailings retreatment facility that was shut down by AngloGold Ashanti in 2004 is being refurbished
under new management.

Over the years many of the most prominent tailings sites surrounding Johannesburg, South Africa, a city that grew up around its now exhausted gold mines, were reprocessed. A significant percentage of the gold that remained in these tailings deposited up to a century ago was reclaimed. Steadily, one of the city's major distinguishing features began to disappear.

But earlier this decade, after 25 years, the tailings reclamation operations began to struggle for profitability. They, too, began to tail off. Even though many mine dumps remain on the Rand both to the west and east of the city many of the oldest and richest ones were gone.

When the largest of the surface material reclamation operations, AngloGold Ashanti's East Rand Gold (Ergo) located near Brakpan to the east of Johannesburg, shut down in 2004 it seemed as if gold reclamation from the Rand's old mine dumps had come to its end. Over its 25 years of operation, Ergo had processed 890 million mt of tailings to produce 8.2 million oz of gold and 5.5 million lb of uranium.

The other tailings retreatment companies also ceased to operate with the exception of mid-level gold producer DRDgold's Crown Mines operation. However, even that one, which remained profitable while all others fell, was in its final phases and management was searching for ways to extend its life.

The Ergo plant was about to be demolished last year, when DRDgold saw that it fit the jigsaw puzzle perfectly for its tailings retreatment plans. Ergo Mining, reborn as a 50:50 joint venture between DRDgold and Australian company Mintails, symbolizes a comeback for tailings retreatment in South Africa. "The project is not the result of the recent surge in gold price and we originally started looking at it in 2006 when the gold price was closer to US$500/oz," DRDgold CEO Niel Pretorius said.

Mintails, which is involved with tailings retreatment on the West Rand, was able to bring to the table the Ergo plant it had obtained in a deal with a local businessman. That, coupled with DRD's surface tailings resources, meant there was a match. In its own right, outside the joint venture Mintails owns the rights to process and extract gold and uranium from over 305 million mt of slimes, sands and rock tailings materials located on the West Rand. This provides it with a gold resource of 2.17 million oz.

DRDgold already has extensive surface tailings retreatment operations with its Crown Gold Recoveries division which produced over 100,000 oz of gold in 2007. The company's rights includes a famous old mine dump on top of which was built Johannesburg's best known movie drive-in, Top Star. The 5.1-million-mt Top Star dump, is estimated to contain 128,000 oz of gold.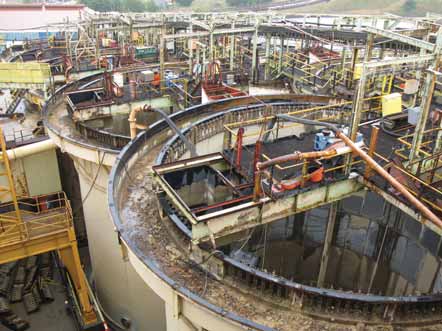 CIL tanks being refurbished at Ergo Mining.

Now, the Ergo Mining joint venture, with rights to large mine dumps extending from the Central Rand across the East Rand and which contain 1.7 billion mt of material, has consolidated tailings retreatment on the East Rand.

The venture, which is investing $62 million, is looking at a break-even cost of about $500/oz. Operating cost projections are $2.6/mt.

Pretorius expects Ergo Mining to be a long-life operation, with over 25 years of material available for processing and the possible recovery of 15 million oz of gold. It will provide a steady income stream and provide the company, which owns the deep level ERPM and Blyvooruitzicht gold mines, two ageing and volatile assets, with a more balanced mix of production. Because of their marginal nature, those old deep mines were among the hardest hit by the power restriction interventions in South Africa, and the surface reclamation operations, which use much less power, can help offset this.

Tailings retreatment operations have the advantage of certainty. The tonnage and grades are a given as is the knowledge of where these are located. All the dumps owned by Ergo Mining are being drilled to determine their resources for gold, uranium and acid production.

To start with, tailings will be pumped through a 500-mm-diameter pipeline from DRD's existing Benoni retreatment site to the Ergo plant, where refurbishment and recommissioning of a single carbon-inleach (CIL) circuit will be completed by the end of this year. The 600,000-mt/month pipeline is to be commissioned in October. With 15 million mt of material remaining, the Benoni tailings dump has two more years to run.

Next year will see the doubling of processing capacity at the Ergo plant to 14.4 million mt/y and the installation of the 500-mm-diameter pipeline from the Brakpan plant to the Elsburg tailings complex, which is about 12 km distant. The Elsburg tailings complex comprises 171.6 million mt at a grade of 0.3 g/t of gold for 1.67 million oz of contained gold. It is expected that the gold recovery rate will be about 50%.

At that stage the plan is for Ergo Mining to produce 75,000 oz/y of gold. The plant will process 1.25 million mt of material a month.

In 2010, a second CIL circuit would be refurbished at Ergo and capacity doubled again to 30 million mt/y.

The flow diagram for the process is a simple one. Material mined by water monitors is pumped to a desanding plant and any oversize material is removed. Where necessary the material can be pumped directly to thickeners first. Then follows the standard process of CIL, tails screening, loading of the gold-bearing material onto carbon, elution, electrowinning and smelting.

Charles Symons, the regional manager of DRD's Crown operations and now part of Ergo Mining's management team said, "Newcomers have not had a good track record in the surface material reclamation business and we have taken note of that."

The reason, he says, is that without five pillars—the resource, the plant, an adequate deposition site, servitudes and water—you will struggle in the tailings retreatment business.

Ergo Mining has no shortage of resources to reprocess, even assuming all the expansions in production pan out. The 60 or so mine dumps located between the center of Johannesburg and the Far East Rand to which the venture has rights won't all disappear for many decades.

Though the Ergo plant has stood idle for five years, it was well built and maintained by Anglo and remains in good condition.

"By making Ergo Mining into a mega project, fixed costs diminish into irrelevance so we can worry only about the variable costs. To achieve this we must have a big enough deposition site," said Symons. The existing Brakpan deposition site covers 500 hectares and has room for another 80 million mt, and the adjacent future deposition site, Withok, depending on how it is designed, could accommodate 500 million to 700 million mt. Construction of the Withok tailings facility would begin in 2010. "In the long run when we walk away there will be just one very large tailings dam, which will be grassed on top," Symons said.

"The fourth pillar involves being able to link the sites, particularly in urbanized areas where land is at a premium. We have secured all the old existing servitude rights from Anglo. "Finally, sufficient water for the operation will be pumped from DRD's underground ERPM mining to sustain the surface mining," said Symons

Thanks to the rebirth of Ergo Mining consolidation of surface gold reclamation has taken place on the Central and East Rand, but with four current operators on the West Rand there remains opportunity for consolidation in that area.
---
As featured in Womp 08 Vol 4 - www.womp-int.com